Located in southwest China, Sichuan is well-known as "Land of Abundance", with pleasant climate, numerous rare animal species and preciously natural and cultural heritages. Here, you will be able to take the popular Sichuan trips to watch the featured Sichuan Opera, hold the cute Giant Panda, see the biggest cliff-carved Leshan Buddha, hike at the birthplace of Buddhism - Mt. Emei, visit the no-dam Dujiangya Irrigation System, the beautiful Jiuzhai Valley, Huanglong Valley, and Ruoergai Prairie.
We also offer the in-depth Sichuan trips to experience customs and living habits of the Tibetan nationality in western Sichuan, explore the "Last Shangri-La" - Daocheng and Yading, discover the world's largest active Tibetan Wuming Buddhist Academy in Seda, visit the picturesque Tibetan villages and ancient Diaolou in Danba, and trek at the natural areas like Genie Mountain, Mount Gongga, Yala Kamiyama, Mount Siguniang and Nianbaoyuze.
Speak to someone who's been there
Tell us your travel plan and ideas and one of our travel specialists will tailor a trip just for you.
Sichuan Group Tours - Small Group & Big Saving
Our no shopping small group tours in Sichuan will take you to the top destinations in Sichuan, like Jiuzhaigou Valley, Leshan Giant Buddha and Mount Emei. You will travel with our knowledgeable local English and Mandarin speaking guide to learn more about your destinations and share authentic travel experiences with like-minded tourists from all over the world.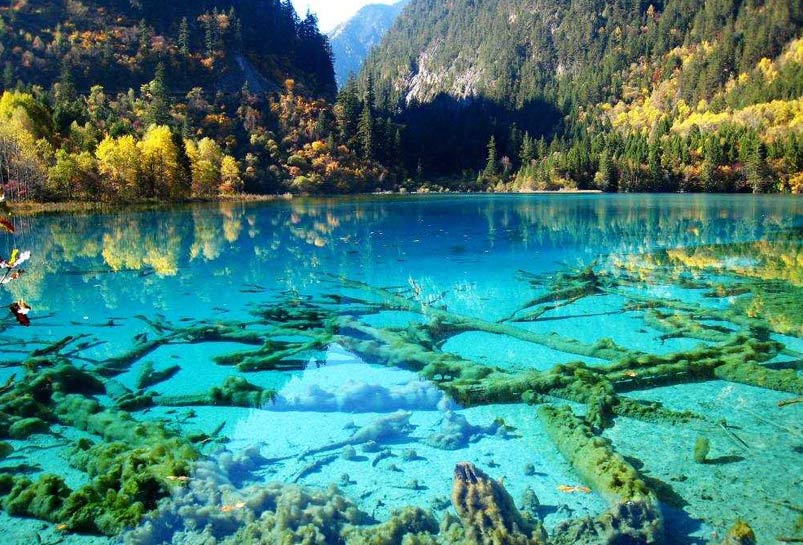 Jiuzhaigou Small Group Tour
Looking for a best value group tour to Jiuzhaigou? Here we offer small group tours to Jiuzhaigou, as well as the nearby Huanglong National Park, Ruoergai grassland and Langmusi Temple to experience the most beautiful lakes, forests, and grassland in the northern Sichuan province.
More Jiuzhaigou Tour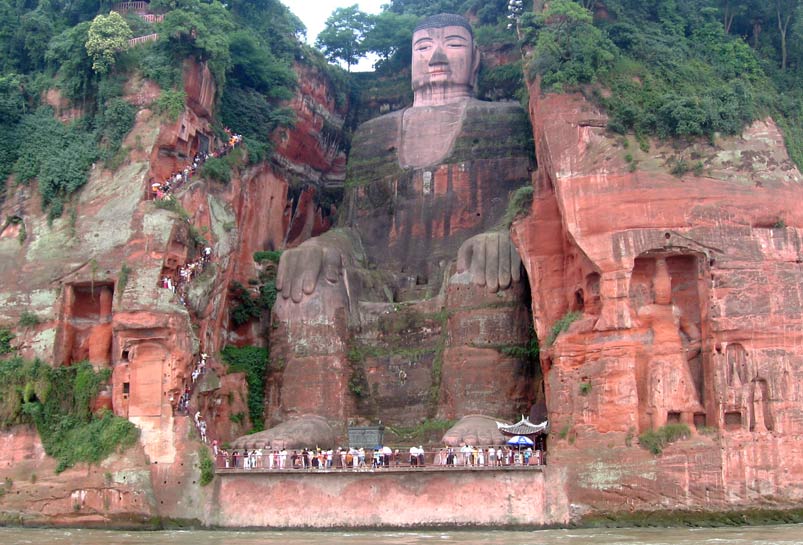 Leshan Gaint Buddha & Mount Emei Small Group Tour
Leshan Giant Buddha and Mount Emei were listed as the World Cultural and Natural Heritage Sites in 1996. Leshan Giant Buddha is the largest stone-caved Buddhist statue while Mount Emei is the most beautiful Buddhist Mountain in China. Taking our join-in small group tours to Leshan Giant Buddha and Mount Emei, you will explore the local Buddhist culture and religion together with the stunning nature beauty at the best local price.
More Leshan & Mount Emei Tour
Sichuan Theme Tour
We share more travel ideals for you to find the right tour. No matter you are the great fan of lovely giant pandas, or dream to explore the beauty of fairy land Jiuzhaigou; whether you are keen on the delicious Sichuan cuisine, or prepare for a lifetime overland journey to Tibet, you can find something satisfy your appetite.
Giant Panda Tour

A Chengdu Tour will never be complete without a trip to the Panda Base. As the hometown of Giant Pandas, Chengdu offers the most chance to get close to those lovely creatures. Also, you can do a panda volunteer job or hold a panda in the Dujiangyan Panda Valley near Chengdu, which will be a lifetime memory for you.

>>View All Tours

Trek & Camp Tour

Sichuan province offers rich hiking and trekking resources for both sightseeing lovers and trekking lovers. The popular Mount Siguniang trek from Changping Valley to Bipeng Valley, the off-the-beaten-path hiking route in Qizanggou, Songpan, the classic trek in Daocheng Yading...you will find one that fits your needs.

>>View All Tours

Overland to Tibet

Sichuan Tibet Highway is praised as the most beautiful way to Tibet with marvelous landscapes changing from Chengdu plain to Tibet plateau. Crossing the Hengduan Mountain Ranges, you will appreciate the unique landscapes in western Sichuan and eastern Tibet and experience the different Tibetan culture along the way.

>>View All Tours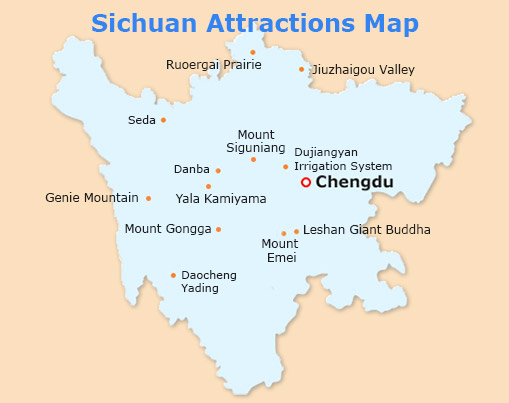 About Sichuan Province
Capital City:
Chengdu
Population:
8140 million
Ethnic Groups:
55 etninc groups. The second largest inhabite of Tibetan, the largest Yi inhabited area and the only inhabited for Qiang people.
UNESCO Sites:
Jiuzhaigou Valley Scenic and Historic Interest Area;
Huanglong Scenic and Historic Interest Area;
Mount Emei Scenic Area, including Leshan Giant Buddha Scenic Area;
Mount Qingcheng and the Dujiangyan Irrigation System;
Neighboring Provinces:
Yunnan, Guizhou, Tibet, Gansu, Qinghai, Chongqing, Shaanxi, Hubei
Top Travel Destinations in Sichuan
Sihcuan has more than pandas and the fairy land is not only Jiuzhaigou. Mt. Siguniangshan and Mt. Gongga are the ideal destinations for mountain trekkers, while Qingcheng Mountain and Emei Mountain are the best places to explore the local religions. The grassland in northern Sichuan and mountains to the west of Sichuan are also good destinations for amazing landscapes with local ethnic culture. Here you can browse our Sichuan tour packages by regions.
Start planning your tailor-made adventure to the Third Pole by contacting one of our certified specialists.