Welcome to Tibet - one of the most mysterious region in the world. For centuries, Tibet remains to be the imagination of spiritual seekers, mountain adventurers and intrepid travelers; and continues to promise breathtaking high-altitude scenery, awe-inspiring monasteries, epic road trips and a unique Himalayan culture.
We offer independent and authentic Tibet Tours for you whilst ensuring all the smaller details are taken care of, leaving you free to relax and enjoy the experience. Besides, you can also customize your own trip by telling us your ideas, and we'll take care of the rest for you.
Speak to someone who's been there
Tell us your travel plan and ideas and one of our travel specialists will tailor a trip just for you.
Recommended Tibet Small Group Tours
Tour Tibet in a small group with big saving! Keeping groups small in size, Our group tour packages to Tibet take you explore the best parts of Tibet with local travel guide at the local price. Please check the tour details with day by day itinerary and scheduled departure dates through out the year 2017.
Tibet Travel Permit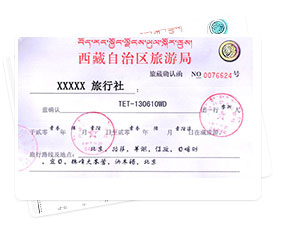 For foreigners traveling to Tibet, the Tibet Travel Permit is necessary document required by the government. The permits vary according to the places tourists plan to go. In fact, there are three kinds of permits that required by the government.
Tibet Tourism Bureau Permit - also known as Tibet Entry Permit or Tibet Visa, is the basic permision you need to have to enter Tibet. You need to show this permit when boarding your flight and train to Tibet.
Aliens' Travel Permit - Another must document for tourists who plan to visit the unopened areas outside Lhasa, such as Tsetang, Shigatse, Everest Base Camp.
The Military Permit - an extra permit that required for a Mount Kailash tour, a Nyingchi tour or a Chamdo tour.
Train to Tibet
To get to Tibet by train from mainland China is absolutely an unforgetable experience for most travelers. Currently, you can take a Tibet train in Beijing, Shanghai. Guangzhou, Chengdu, Chongqing, Xi'an, Lanzhou, and Xining. The Qinghai-Tibet highway is the world's highest railway that through the Tibet Plateau from North to Century. While taking the train journey along the Qinghai-Tibet railway, you could enjoy the vast land of northern Tibet. Specially-designed for running in the high land, every Tibet train has oxygen supply system so that you can have no worry about high altitude sickness on the train.
As it is a lifetime journey to get to Tibet by train, it is quite popular among both domestic and foreign tourists. For the limited supplication of Tibet train tickets with the huge demands, we highly suggested you to book Tibet train ticket in advance . Every year, we have a large number of annual booking from Train ticket office, so we can help individual travelers to book the Tibet train ticket, especially in peak season. However, it is also difficult to guarantee the soft sleeper berth ticket from Beijing, Shanghai and Chengdu. As most travelers choose to start their Tibet train journey from those cities, it is suggested to get to Xining first, and then take a Xining-Lhasa train for every train to Tibet will stop at Xining.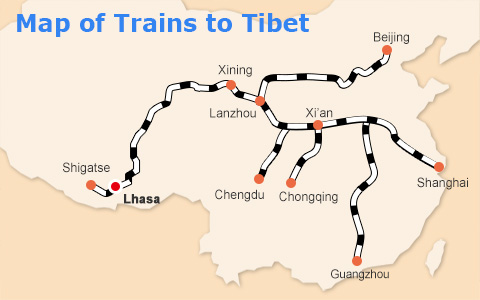 Tibet Train Tour Services from 3rdpoletour.com
Help you book your Tibet train ticket

Arrange Tibet Train Tours according to your needs.

Offer free Tibet train information.

Help you apply for the Tibet Travel Permit.

Provide quick reply to any of your Tibet travel questions.

Offer experienced Tibet Local Guide and Driver.
Tibet Theme Tour
We are glad to share more travel idea with your. No matter you are searching for a classic overland tour from Lhasa to Kathmandu, or eager for a lifetime memory on the Everest Base Camp; no matter you decide to take an overland tour through the highway to Tibet, or just want to follow the pilgrims path to trek around the Mount Kailash, you can find someone that fit your needs.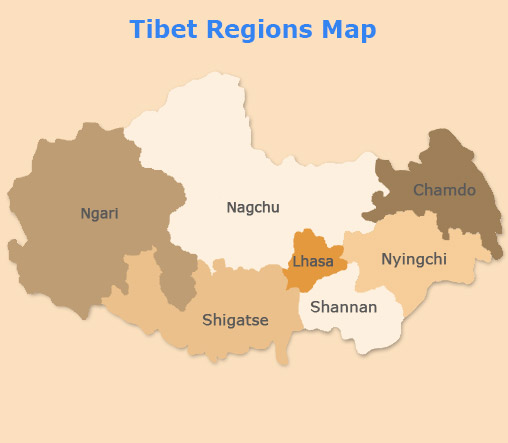 About Tibet
Lhasa, the capital city of Tibet, where you can visit the Potala Palace, the Jokhang Temple, the Barkhor Street and some other monasteries.
Shigatse, the central of Tibet and a paradise for trekking lovers, who can trek to Mount Everest Base Camp, Gama Valley and so on.
Nyingchi, with the lowest altitude than any other regions in Tibet, is called Switzerland of Tibet because of its charming scenery with snow-capped mountain, lakes and forests.
Ngari, with an averege altitude of 4500 meters above the sea leve, is the home of holy Mount Kailash and Lake Manasarovar, and is where the ruins of Guge Kingdom is.
Shannan, also called as Lhokha, is the cradle of Tibetan Civilization, where you can vidsit renowned monasteries and palaces.
Chamdo, as a part of the Ancient Tea Horse Road, is located at the side of Sichuan-Tibet Highway, connecting Shichuan with Tibet.
Nagchu, as the largest prefecture of Tibet, has the vast Qiangtang grassland with verious kinds of wildlife and the holy Lake Namtso.
Start planning your tailor-made adventure to the Third Pole by contacting one of our certified specialists.