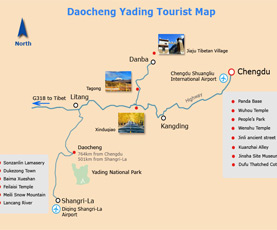 Standing at Southwest Sichuan Province and close to the border of Northwest Yunnan Province, Daocheng Yading Scenic Area is honoured as "the Last Shangri-La", world-famous for unique original natural sceneries, a number of snow-capped mountains, glacier-red lakes, and forested valleys, where it is worth spending a couple of days walking, riding, cycling, or camping.
Highlights of Daocheng & Yading
1Three Holy Mountains: Yading Nature Reserve centres on these snow-capped mountains, named as "Chenresig, Chana Dorje and Jampelyang", which form a holy trinity around forested valleys, wonderfully clear rivers and glacier-fed lakes. They mean "wisdom, power and compassion" respectively in Tibetan.
2Three Sacred Lakes: The beautiful and stunning sacred lakes are Pearl Lake, Five-color Lake and Milk Lake. For the local Tibetans, the water of Milk Lake can cure one's disease. At Pearl Lake, travelers can not speak loudly, otherwise it will begin to blow and rain, even snow.
3Kora around Chenresig: Chenresig (also Xiannairi) at 6032m is the tallest of the three peaks. Kore around the peak need 12 hours. To avoid one very long day of walking, we recommend camping halfway round.
Most Popular Daocheng & Yading Tour Packages
Your journey will be fully tailored to your schedule, interests and budget.
Tailor-make your Daocheng & Yading Tour
Too many choices? Send us a quick inquiry so that we can offer you an itinerary with price for your information. This short inquiry is FREE and NOT a commitment for booking.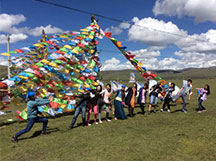 Daocheng & Yading Travel Guide
Start planning your tailor-made adventure to the Third Pole by contacting one of our certified specialists.