Standing at Southwest Sichuan Province and close to the border of Northwest Yunnan Province, Daocheng Yading Scenic Area is honoured as "the Last Shangri-La", world-famous for unique original natural sceneries, a number of snow-capped mountains, glacier-red lakes, and forested valleys, where it is worth spending a couple of days walking, riding, cycling, or camping.
Most Popular Daocheng & Yading Tour Packages
3rdpole.com has elaborated the top four travelling routes to Daocheng Yading Natural Reserve with crystal-clear lakes and holy mountains. Moreover, you can also travel further to the picturesque Xinduqiao, majestic Meili Snow Mountain and the Oriental Alps - Mount Siguniangshan.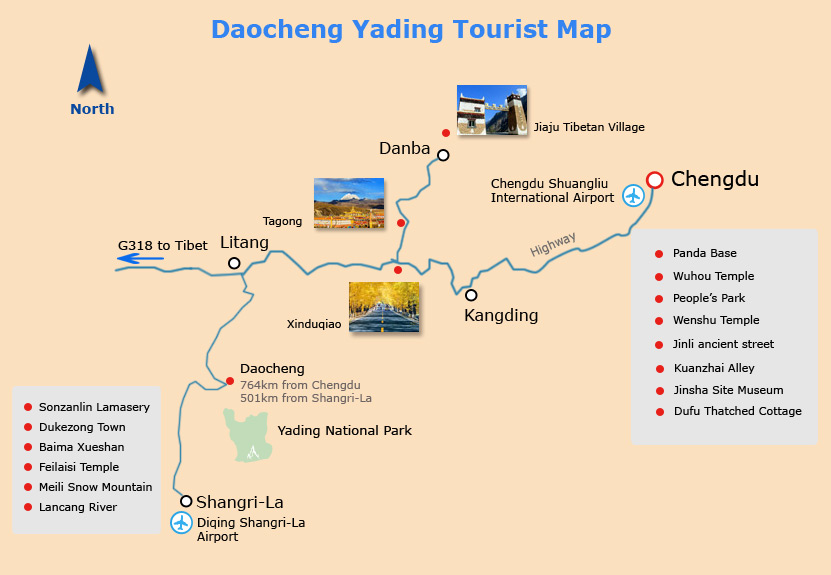 Quick Facts of Daocheng & Yading
Dacheng(3,700m), Yading Village(3,900m), Chonggu Temple(3,900m), Luorong Pasture(4,200m), Five-color Lake(4,500m), Milk Lake(4,800m)

All Year Round (especially spring and autumn)

Three Holy Mountains (Chenresig, Chanadorje and Jampelyang), Three Sacred Lakes (Pearl Lake, Five-color Lake and Milk Lake), Kora around Chenresig, etc.

Tourists can go to Daocheng Yading Airport by flight from Chengdu, Chongqing, Xian and Luzhou and take the shuttle bus to Shangri-La town, or take a long-distance bus from Chengdu Xinnanmen Bus station to Daocheng Bus Station and get on the regular bus to Shangri-La town, finally boarding a scenic bus to Yading Nature Reserve.
Daocheng & Yading Travel Guide
Yearning for wandering around the Last Pure Land on the Blue Planet? 3rdpole.com has made the most comprehensive travel guide for Daocheng & Yading trip and trek, including climate, accommodation, transportation, travel maps, etc.
Eager to Go? Still have some questions or already got your own travel ideas? Please feel free to contact us. Our experienced travel experts on the Third Pole will help you arrange your trip according to your requirements.
Let's Plan Your Trip