The Lhasa to Kathmandu Overland Tour starts from Lhasa and ends at the Nepal border at the Sino-Nepal Friendship Bridge, which remains the most popular and rewarding overland tour in Tibet. The almost 870 kilometers route will allow you to travel through high mountain passes and across the highest inhabited plateau on earth, experiencing important religious and trading centers and absolutely incredible scenery. Our Tibet travel specialists can tailor make an unforgettable private Lhasa to Kathmandu overland tour for you with their years of personal experience.
Highlights of Lhasa - Kathmandu
1Route from Lhasa to Kathmandu: This route offers without a doubt one of the world's great overland routes, going through many if the most popular tourist attractions that the Tibet has to offer.
2Lhasa: A sacred place boasting spectacular prayer hall of the Potala Palace, the medieval Jokhang Temple and the monastic cities of Drepung and Sera, as well as other less-visited chapels and pilgrim paths.
3Shigatse: The second-largest city in Tibet, the Tibetan section has high-walled Tashilumpo Monaster, filled with whitewashed compound, dusty alleys and prayer-wheel-spinning pilgrims.
4Yamdrok Lake: The coiling lake lies several hundred meters below the road from Lhasa to Gyantse, and in clear days is a fabulous shade of deep turquoise.
5EBC: After a long journey to Everest Base Camp, standing close to the world's highest mountain will definitely leaves you breathless.
Most Popular Lhasa - Kathmandu Tour Packages
Your journey will be fully tailored to your schedule, interests and budget.
Tailor-make your Lhasa - Kathmandu Tour
Too many choices? Send us a quick inquiry so that we can offer you an itinerary with price for your information. This short inquiry is FREE and NOT a commitment for booking.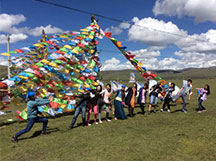 Start planning your tailor-made adventure to the Third Pole by contacting one of our certified specialists.