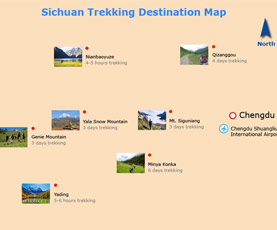 Whether you're sightseeing lovers or trekking lovers - and we're a team of travel experts to help you along the way.
As a Sichuan local tour operator, we deliver our best service for your kora in Sichuan and trekking tips right to your way, based on our most comprehensive and professional trekking support, incl. local guide, trekking porters, expedition cooking, well-prepared meals, high-quality 4-season tents suitable for camping in highland region, etc.
There are 7 classic and popular trekking itineraries in Sichuan. We listed them below. If you have any ideas, please feel free to tell us on the following tailor-made forms.
Best Trekking Itinerary in Western Sichuan
1Mount Siguniangshan Trek: from Changping Valley to Bipeng Valley; 3 days trekking and 2 nights camping: experience the stunning scenery, the hospitality and cultures of the local Tibetan people.
2Yala Snow Mountain Trek: from Zhonggu Village to Taizhangou Valley; 3 days trekking and 2 nights camping: see the snow-capped Yala Mountain, one of the four holy mountains worshipped by the local Tibetans.
3Daocheng Yading Trek: from Luorong Pasture to Milk Lake (4600m) and Five-color Lake (4600m) and then back; the 6-7 hours trekking tour to see three sacred peaks: Mt. Yangmaiyong (5958m), Mt. Xianuaduoji (5958m) and Mt. Xiannairi (6032m). You can also choose to ride a horse.
4Nianbaoyuze Trek: from Xiannu Lake to Yaonu Lake (4400m) and then back; the 4-5 hours trekking tour to explore the uncanny workmanship of the Nature and experience the changing weather.
5Qizanggou Trek: from Kakagoukou to Awenggou Goukou; 4 days trekking and 4 nights camping in untouched fairyland: an relatively easy trek at the average altitude of around 3500m.
6Genie Holy Mountain Trek: from Zhangna township to Lenggu Temple, and back to Lamaya township; 3 days trekking and 2 nights camping, 40km to enjoy the scenic spot of "supernatural, magnificent and beautiful".
7Minya Konka (Mt. Gongga) Trek: from Laoyulin to Shangmuju Village; 6 days trekking and 6 nights camping to see the "King of Shushan" in Sichuan and experience the local Tibetan cultures.
Most Popular Sichuan Trek & Camp Tour Packages
Your journey will be fully tailored to your schedule, interests and budget.
Tailor-make your Sichuan Trek & Camp Tour
Too many choices? Send us a quick inquiry so that we can offer you an itinerary with price for your information. This short inquiry is FREE and NOT a commitment for booking.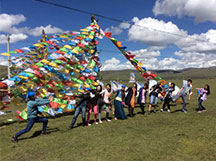 Start planning your tailor-made adventure to the Third Pole by contacting one of our certified specialists.