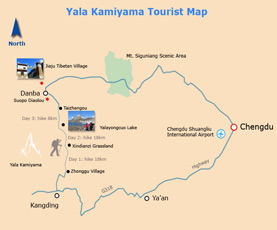 Yala Kamiyama makes her guests more enough grave to hike and trek the fascinating surroundings, which includes crystal highland lakes, origin forest, grand glacier and spectacular waterfalls, but no one has ever climbed up the peak of Yala, though only at an altitude of 5,884 meters above sea level.
Highlights of Yala Kamiyama
1Yala Kamiyama: At the altitude of 5,884 meters, Yala Kamiyama, also Yala Snow Mountain, is one of the four holy mountains in Tibetan region of China. Its peaks are covered by white snow all year around.
2Trek in Yala Kamiyama Area: Yala Kamiyama has been listed as one of the eighty ecotourism areas, where is one of the perfect trekking places in the western Sichuan for most outdoor enthusiasts. It offers her guests who are grave enough to explore abundance of fascinating tourist resources, such as crystal highland lakes, wild natural pasture, origin forest, grand glacier, spectacular waterfall, lovely amazing hot spring and so on.
Most Popular Yala Kamiyama Tour Packages
Your journey will be fully tailored to your schedule, interests and budget.
Tailor-make your Yala Kamiyama Tour
Too many choices? Send us a quick inquiry so that we can offer you an itinerary with price for your information. This short inquiry is FREE and NOT a commitment for booking.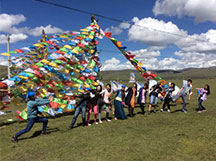 Yala Kamiyama Travel Guide
Start planning your tailor-made adventure to the Third Pole by contacting one of our certified specialists.