Everest Base Camp is the best way for those non-elite climbers who want to get close to the world's highest mountain. Needless to say, the Everest Base Camp tour is an indispensable of a Tibet tour for tourists traveling to Tibet and it is no longer a dream. We offer the most popular group tours to EBC, and also, our Tibet travel specialists can tailor make an unforgettable private Everest Base Camp tour for you with their years of personal experience.
The trip to Everest Base Camp is not only for the final destination – Mount Everest, but also for what you experienced en route. The road to Everest Base Camp is one of the most rewarding journey in Tibet, along which you will be accompanied by beautiful landscapes and famous in the Himalaya regions. After the long journey, standing close to the world's highest mountain will definitely leave your breathless. It is highly suggested to stay overnight at the highest monastery in the world to take stunning photos of the starry night and get up early to enjoy the amazing sunrise over Mount. Everest.
Most Popular Small Group Tours to Everest Base Camp
We offer the most popular group tour to Everest Base Camp from Lhasa, covering all the essentials along the way. And for tourists who want to explore more about Tibet, we special designed the trips that combine the world's highest mountain with other highlights in Tibet, such as Lake Namtso or Mount Kailash. Pick us your favorite itinerary and check the detailed departure dates with price in 2018 and 2019.
Customized Everest Base Camp Tour Packages
Your journey will be fully tailored to your schedule, interests and budget! You can pick us your favorite to go and tell us all your requirements and interests to build your own lifetime memory at the Everest Base Camp.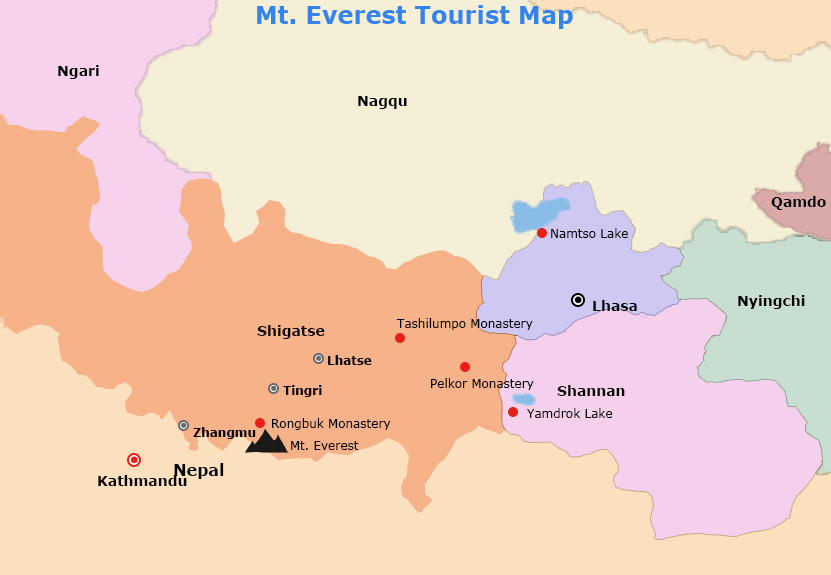 Quick Facts of Mount Everest Base Camp
Everest Base Camp (5200m), the Summit of Mount Everest (8,848m)

All Year Round (especially April to May and September to October)

Rongbuk Monastery, Everest Base Camp, The sunrise of Mount Everest, Rongbuk Glacier, ect.

Tourists can get to Mount Everest by car, bike or motorbike to Everest Base Camp from either Lhasa or Kathmandu. The recommended means of transportation is to drive to EBC. There is also a 4+2 cycling tour that you can choose, not only can you experience the cycling on the world's highest plateau, but also save energy at this high altitude, especially at Everest Base Camp. Meanwhile, you can trek to EBC from Tingri or Rongbuk Monastery according to your health condition.
Mount Everest Travel Guide
Check our ultimate guide for Tibet tours! For further questions, please feel free to contact us.
Eager to Go? Still have some questions or already got your own travel ideas? Please feel free to contact us. Our experienced travel experts on the Third Pole will help you arrange your trip according to your requirements.
Let's Plan Your Trip