What is Exactly a Third Pole Tour
The Third Pole mainly refers to the Tibetan Plateau, also called Tibetan Highlands or Qinghai-Tibet Plateau, vast high plateau of Western China. It encompasses all of the Tibet Autonomous Region and much of Qinghai province and extends into western Sichuan province, southern Uygur Autonomous Region of Xinjiang and northern part of Yunnan province. Most of the destinations are the off the beaten tracks with wild views, primitive cultures, devout people and unexploited landscapes.
Place: unexploited landscapes

We specialize in the in-depth discovery itineraries and the classic regular itineraries in Third Pole places. These places features "beautiful, magnificent, supernatural, and unknown".

People: spiritual believers

We help you see more closely the devout Buddhists and Muslims and other religion believers, the original local residents, and the ethnic minorities of China with colorful cultures.

Religion: complex interaction

The Third Pole is a multi-religious area. Buddhism, Islamism, Taoism, Christianity, Confucianism were widely accepted and gradually developed by Han and Tibetan people.

Wild: multi-species habitats

We will guide you to explore the untouched natural reserves. Here, you will see personally the wild pandas, Tibetan antelopes, snub-nosed monkeys and other rare wildlife.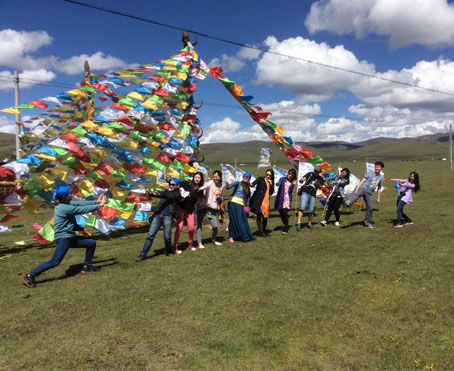 Our Travel Experts
Everyone has a Plateau dream trip, but making it happen is hard work - searching for the right information, making the best choices, learning the local customs, worring about the language barrier between English and Tibetan, looking into the incomplete transportation system...
We are a diverse group of travelers, and have 5 years of experience crafting travel packages to the Tibetan Plateau. We've done the research and searched far and wide for the best hotels, tours, vehicles, local guides and trip leaders. And we've honed our itineraries to make the most out of precious vacation days. We're here to help you travel the way you want. We are here to make your lifetime adventure trip happen.
What Our Travelers Say
As a big fan of lovely pandas, I dreamt to do a panda volunteer job. Thanks to Leon, my personal travel advisor from 3rdpole tour, who helped me to fulfill my dream. I took a one day panda volunteer job in the Panda Valley in Dujiangyan, which is the only Panda Base that open for volunteering.

Leon was very professional and ...

Beverly 21 June , 2017

We were a team of 13 people who visited Kangding, Danba and Ma'erkang with 3rdpoletour.com. Our travel advisor who arranged the tour for our team was very efficient and our trip leader Alex was a very profissional and experienced guide to western Sichuan province. We really had a great time in Kangding and Danba.

May is a ...

Allen 28 May , 2017

Leon was very helpful to arrange a day volunteering for us and July, our travel guide was excellent. They took care of every little thing in our tour.

The panda volunteer job started in the morning. We cleaned up the panda poo, and sweeped out the enclosures.Though it was really tired, we did enjoyed it. It truely required a ...

Claire 26 October , 2016