Leshan, located at the confluence of three rivers - Min River, Dadu Rriver and Qingyi River, is one of the National Famous Historical and Cultural Cities. It is just 169km from Chengdu and is easily accessible by private car, high-speed train and regular bus, which makes it the top destinations to visit as a side trip of Chengdu.
In Leshan, there are two main scenic areas which were included in the World Cultural and Natural Heritage List in 1996 - Leshan Giant Buddha and Mount Emei. With a great reputation and breathtaking scenery, tourists will never regret visiting these two wonderful sites. Apart from the scenic area, don't miss the delicious snacks in Leshan.
Most Popular Emeishan & Leshan Small Group Tour Packages
3rdpoletour.com prepares a variety of Leshan Tours for you, with Leshan Giant Buddha and Mount Emei as the biggest draw and Jiuzhaigou as a special bonus. Catering different budgets and interests, all of our group tours to Leshan, Emeishan and Jiuzhai Valley are non-shopping with fixed departure dates at the best local price. Choose the one suiting you best!
Customized Emeishan & Leshan Tour Packages
We also design a serials of Leshan trips with visit to Chengdu Panda Base, Wuhou Temple, etc. Not only can you appreciate the superb vista of Dujiangyan Irrigation System, but also explore the mysterious Taoism in Qingcheng Mountain. All itineraries below are private and flexible, and can be customized to your travel style and tastes.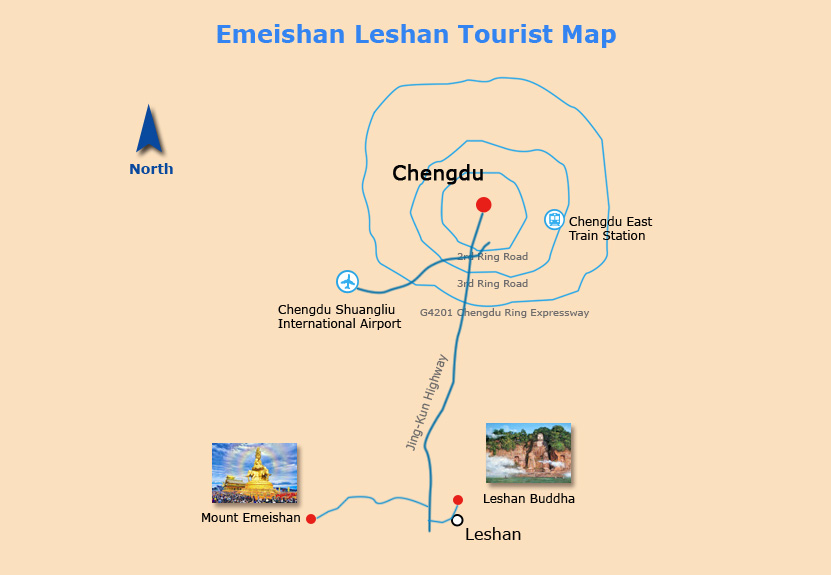 Quick Facts of Leshan & Emeishan
All Year Round (especially spring and autumn)

Mount Emei, Leshan Giant Buddha, etc.

The most convenient way to get to Leshan and Emeishan is by high-speed train from Chengdu East Railway Station and Chengdu South Railway Station. It only costs you 59mins to 1.5hrs for the train ride along Chengdu-Mianyang-Leshan intercity railway. Or you can take public bus or charter a car to Leshan and Mount Emei.
Leshan and Emei Mountain Travel Guide
How to visit Leshan Giant Buddha and Mount Emei in just one go? Where to enjoy the mouthwatering snacks? No worries! 3rdpoletour.com has collected the most useful travel information and tips for you Emeishan Leshan trip!
Eager to Go? Still have some questions or already got your own travel ideas? Please feel free to contact us. Our experienced travel experts on the Third Pole will help you arrange your trip according to your requirements.
Let's Plan Your Trip