Leshan Emeishan Tour
Located at the confluence of three rivers, 169km south of Chengdu, Leshan has two main scenic areas which were included in the World Cultural and Natural Heritage List in 1996 - Leshan Giant Buddha and Mount Emei. You can reach this unique Giant Buddha by foot or by boat, starting from the top of the Buddha by its head if you travel by foot, or from the river by taking the sightseeing boat. Then you can take the bullet train or private car to visit Mount Emei for the fabulous sunrise, sunset, clouds sea over the Golden Summit.
The food here is also delicious, and the style of cuisine is a little different from that of most of Sichuan. A popular dish is the Qiao Jiao Beef, a local dish made from the internal organs of a bull. And while you may not find many luxury restaurants in Leshan, you can find some of Sichuan's best street foods.
Easily accessible by private car, high-speed train and regular bus, it is one of the top destinations to visit as a side trip of Chengdu. Our outstanding tour can take you from the bustling city to this delightful and relaxing area of Sichuan, and we can tailor your tour to suit your own requirements.
Basic Fact:
Altitude: Leshan (400 meters); Emeishan (3099 meters)
Best Time to Go: All Year Round (especially spring and autumn)
What to See: Leshan Giant Buddha, Mount Emei, etc.
How to Go: The most convenient way to get to Leshan and Emeishan is by high-speed train from Chengdu East Railway Station and Chengdu South Railway Station. It only costs you 0.5hrs to 1.5hrs for the train ride along Chengdu-Leshan-Emei intercity railway. Or you can take public bus or charter a car to Leshan and Mount Emei.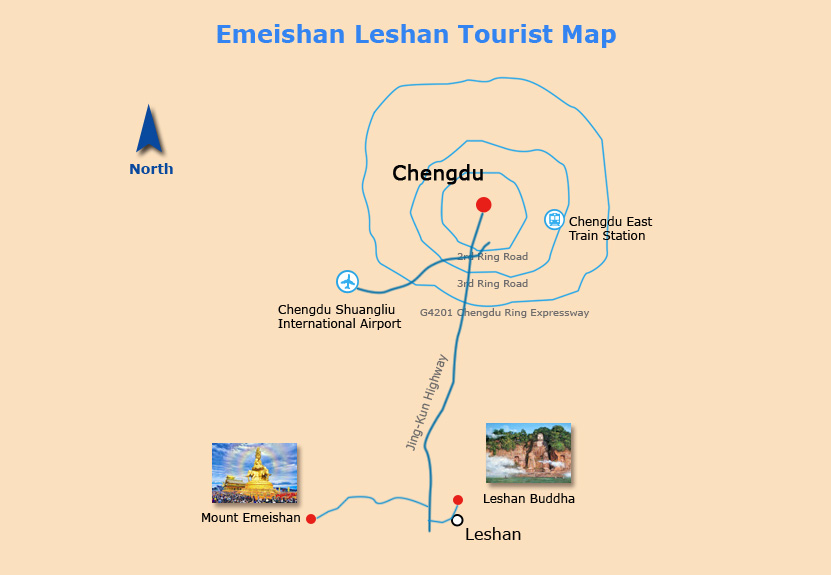 Leshan Emeishan Tourist Map (click to enlarge map)
Leshan Emeishan Small Group Tour Packages
3rdpoletour.com prepares a variety of Leshan tour for you, with Leshan Giant Buddha and Mount Emei as the biggest draw and Panda Base and Jiuzhaigou as the special bonus. Catering different budgets and interests, all of our group tours to Leshan and Mount Emei are non-shopping with fixed departure dates at the best local price.
Private Leshan Emeishan Tour Packages
We also design a serials of Leshan trips to surrounding attractions. Not only can you appreciate the superb vista of Dujiangyan Irrigation System, but also explore the mysterious Taoism in Qingcheng Mountain. All itineraries below are private and flexible, and can be customized to your travel style and tastes.
China Tour Including Leshan and Emeishan
You can not only visit Leshan Emeishan from Beijing, Shanghai, Guangzhou, Chongqing, but also extend your trip to Lhasa, Xian, Dunhuang, Kunming, etc. Here we have handpicked the top ten China Leshan Emeishan tour packages for you to choose from.
More Frequent Asked Questions on Leshan Emeishan Tour
Q1. Is a group tour required for Leshan Buddha and Chengdu Panda?
While our stunning group tours do cater to a range of different budgets and interests, there is no requirement for you to take a group tour. If you prefer a private tour, either for yourself or together with your family, we can customize the trip to suit your needs. Our expert professional tour consultants would be more than happy to assist you in arranging a private tour of the Leshan Buddha and Mount Emei.
Q2. How to get from Chengdu to Leshan?
The easiest way to get to Leshan from Chengdu is to take the high-speed train, which departs from either Chengdu East Railway Station or Chengdu South Railway Station. From Chengdu East, it takes around 60 minutes, while from Chengdu South, it is a little over 30 minutes to Leshan along the Chengdu-Leshan-Emei Intercity Railway.
Alternatively, you can take a bus from Chengdu, which takes you along the Jing-Kun Highway to Leshan. From there, you can get a local bus to Mount Emei, to the west. Or you can hire a private car or join in one of our group tours.
Q3. Which way shall I choose to visit Leshan Giant Buddha, by boat or foot?
How to get to the Giant Buddha Statue at Leshan is entirely up to you. You can opt to visit by foot, hiking a cross the short distance from the road to the site, and climbing down the long stone-carved stairways from the top to the bottom. This does give you an incomparable view of the Buddha as you descend.
However, traveling by boat can be much more exciting and fun, taking the sightseeing boat from the pier a little further upriver. The sightseeing boat takes you right to the front of the Buddha, giving you a better sense of the enormity of this massive sitting Buddha, the largest in the world.
Q4. How far is Leshan Giant Buddha away from Emei Mountain?
The drive from the Leshan Buddha to the foot of Mt. Emei is around 33 kilometers. The drive takes around 40 minutes, along the straight road, crossing the Xinkai River and heading almost due west.
Q5. How to get from Leshan to Mt. Emei, train or bus?
Except the private drive, you can take a train from Leshan to Emeishan City from the Leshan Railway Station, just north of Haitang Park. The trains run to Emeishan City Station, and from there, you can get the local bus to the entrance to the area of Mount Emei in Baoguocun. The bus drops off at the Baoguo Temple Bus Station.
If you travel from Leshan to Emeishan City by bus, you can take the long-distance bus from the Xiaoba Bus Station direct to Baoguo Temple Bus Station. The buses run throughout the day, and cost from around 11 yuan for the one-hour ride.
Leshan and Emei Mountain Travel Guide
How to visit Leshan Giant Buddha and Mount Emei in just one go? Where to enjoy the mouthwatering snacks? No worries! 3rdpoletour.com has collected the most useful travel information and tips for you Emeishan Leshan tour!
Eager to Go? Still have some questions or already got your own travel ideas? Please feel free to contact us. Our experienced travel experts on the Third Pole will help you arrange your trip according to your requirements.