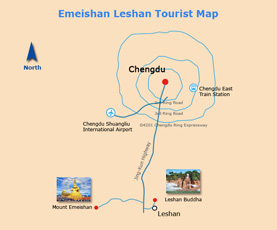 Leshan, located at the confluence of three rivers - Min River, Dadu Rriver and Qingyi River, is one of the National Famous Historical and Cultural Cities. It is just 169km from Chengdu and is easily accessible by private car, high-speed train and regular bus, which makes it the top destinations to visit as a side trip of Chengdu.
In Leshan, there are two main scenic areas which were included in the World Cultural and Natural Heritage List in 1996 - Leshan Giant Buddha and Mount Emei. With a great reputation and breathtaking scenery, tourists will never regret visiting these two wonderful sites. Apart from the scenic area, don't miss the delicious snacks in Leshan. 3rdpoletour.com prepares a variety of Leshan Tours for you, with Leshan Giant Buddha and Mount Emei as the biggest draw, accommodating different budgets and interests. All itineraries below are private and flexible, and can be customized to your travel style and tastes.
Highlights of Emeishan & Leshan
1Mount Emei: It is one of China's four most famous Buddhist mountains (the others are Putuoshan, Wutaishan and Jiuhuashan). Here you will find fabulous forested mountains scenery, ramshackle wooden temples and macaques demanding tribute for safe passage. The best time to visit is from May to October.
2Leshan Giant Buddha: Leshan's pride and joy is the serene, 71-meter-tall and 1200-year old Grand Buddha carved into a cliff face overlooking the confluence of the Dadu River and the Min River.
Most Popular Emeishan & Leshan Tour Packages
Your journey will be fully tailored to your schedule, interests and budget.
Start planning your tailor-made adventure to the Third Pole by contacting one of our certified specialists.