Welcome to Xinjiang - China's far-flung and restive western frontier province. The culture between Xinjiang and other cities in China are what make this province so attractive to travelers. There is much to entice Silk Road travelers here, including ruined desert cities, camel treks, bustling bazaars and a fascinating mix of peoples, as well as the equally awesome landscapes.
We offer independent and authentic Xinjiang Tours for you whilst ensuring all the smaller details are taken care of, leaving you free to relax and enjoy the experience. Besides, you can also customize your own trip by telling us your ideas, and we'll take care of the rest for you.
Speak to someone who's been there
Tell us your travel plan and ideas and one of our travel specialists will tailor a trip just for you.
Most Popular Xinjiang Tour
Third Pole Tour has selected the must see destinations in Xinjiang and designed a collection of special packages
Tailor-make your Xinjiang Tour
Too many choices? Send us a quick inquiry so that we can offer you an itinerary with price for your information. This short inquiry is FREE and NOT a commitment for booking.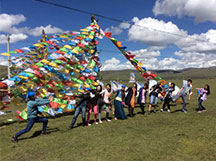 Start planning your tailor-made adventure to the Third Pole by contacting one of our certified specialists.