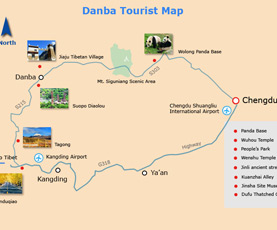 Well-known as one of the most beautiful destinations in western Sichuan, Danba highlights the clusters of fascinating ancient watchtowers, a number of picturesque Tibetan villages, natural reserves untouched by modern tourism, traditional Jiarong Tibetan custom and more. A number of photographers come here for snow-white pear blossoms in spring and for red leaves ("Cailin" in Chinese) in autumn every year.
Highlights of Danba
1Jiaju Tibetan Village: In 2005, the Village was selected as one of the most beautiful six villages in China by the Chinese National Geographic Magazine.
2Zhonglu Tibetan Village: In the Tibetans, the village is known as "the place which gods and people look forward to".
3Qiang Watchtowers: These ancient stone towers, nestled incongruously among village homes on hillsides overlooking the Dadu River, were built by the Qiang People between 700 and 1200 years ago. The towers range from 20m to 60m in height and were used as places of worship and to store valuable as as well as to signal warnings of would-be attackers. The most famous is Suopo Diaolou Group, about 5km away from Danba county.
Most Popular Danba Tour Packages
Your journey will be fully tailored to your schedule, interests and budget.
Tailor-make your Danba Tour
Too many choices? Send us a quick inquiry so that we can offer you an itinerary with price for your information. This short inquiry is FREE and NOT a commitment for booking.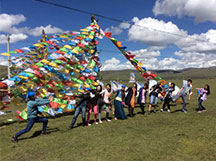 Start planning your tailor-made adventure to the Third Pole by contacting one of our certified specialists.