Well-known as one of the most beautiful destinations in western Sichuan, Danba highlights the clusters of fascinating ancient watchtowers, a number of picturesque Tibetan villages, natural reserves untouched by modern tourism, traditional Jiarong Tibetan custom and more. A number of photographers come here for snow-white pear blossoms in spring and for red leaves ("Cailin" in Chinese) in autumn every year.
Wandering around Danba and surroundings, you will visit Jiaju Tibetan Village, one of the most beautiful six villages in China by the Chinese National Geographic Magazine, and Zhonglu Tibetan Village, known as "the place which gods and people look forward to". Another wonderful attraction is Qiang Watchtowers. These ancient stone towers, nestled incongruously among village homes on hillsides overlooking the Dadu River, were built by the Qiang People between 700 and 1200 years ago. The towers range from 20m to 60m in height and were used as places of worship and to store valuables as well as to signal warnings of would-be attackers. The most famous is Suopo Diaolou Group, about 5km away from Danba county.
Most Popular Danba Tour Packages
3rdpoletour.com have tailor-made a series of popular Danba tour routes with thrilling visit to Daocheng Yading, and adventurous trekking to Yala Snow Mountain as well as Mount Siguniangshan.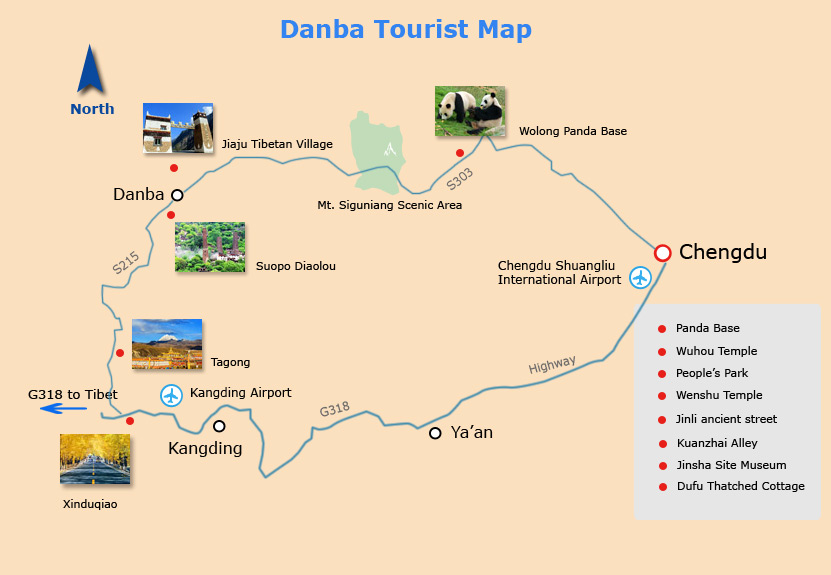 Quick Facts of Danba
Danba (1,860m), Jiaju Tibetan Village (2,200m), Zhonglu Tibetan Village (2,100m), Suopo Diaolou Group (1,900m), Badi Tusi Guanzhai (2,700m)

All Year Round (especially March, April, May, September and October)

Jiaju Tibetan Village, Zhonglu Tibetan Village, Qiang Watchtowers, Suopo Diaolou Group, etc.

Tourists can get to Danba by long-distance bus or private car from Chengdu, Kangding and Maerkang. Or you can take flight from Chengdu Shuangliu International Airport to Kangding Airport and then rent a car to Danba County.
Danba Travel Guide
To help you plan an unforgettable journey to Danba, 3rdpoletour.com has updated Danba travel information and tips for your reference.
Eager to Go? Still have some questions or already got your own travel ideas? Please feel free to contact us. Our experienced travel experts on the Third Pole will help you arrange your trip according to your requirements.
Let's Plan Your Trip