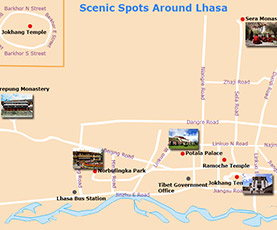 Lhasa is a sacred place which can make the hairs stand up on the back of your neck just upon arriving. From the spectacular prayer hall of the Potala Palace, the medieval Jokhang Temple and the monastic cities of Drepung and Sera, as well as other less-visited chapels and pilgrim paths, our Tibet travel specialists can tailor make an unforgettable private tour for you with their personal experience.
Highlights of Lhasa & Surroundings
1Potala Palace: The cardinal landmark of Lhasa, even of the Qinghai-Tibetan Plateau, this magnificent architectural wonder is regarded as the Pearl of the Roof of the World.
2Jokhang Temple: With a history of about 1300 years, this spiritual heart of Tibet attracts continuous waves of awestruck pilgrims prostrating themselves outside.
3Barhkor Street: You will find it possesses some spiritual centrifugal force, as every time you approach within 50m, you somehow get sucked right in and gladly wind up making the whole circuit again.
4Sera Monastery: The half-dozen main colleges feature spectacular prayer halls and chapels, as well as the interesting monk debating in a garden taking place from 3pm to 5pm.
5Drepung Monastery: Functioned as one of the three "pillars of the Tibetan state" along with Sera and Ganden Monasteries, with around 7,000 resident monks at its peak.
Most Popular Lhasa & Surroundings Tour Packages
Your journey will be fully tailored to your schedule, interests and budget.
Tailor-make your Lhasa & Surroundings Tour
Too many choices? Send us a quick inquiry so that we can offer you an itinerary with price for your information. This short inquiry is FREE and NOT a commitment for booking.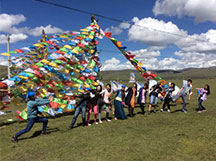 Start planning your tailor-made adventure to the Third Pole by contacting one of our certified specialists.