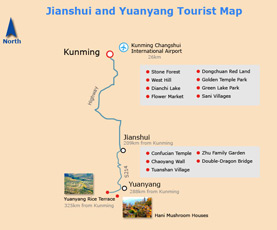 Jianshui is a charming historical and cultural town and enjoys a great reputation as a "Museum of Ancient Buildings and Residential Houses", with old buildings, an enormous Confucian temple, a cave laden with swallows, and some of the best steampot cooking and barbecue you will find in Yunnan.
Actually, Yuanyang is split into two parts: Nansha, the new town, and Xinjie, the old town from which 20-minutes driving journey. Xinjie is the one you want, so make sure you get off there.
Highlights of Yuanyang & Jianshui
1Confucian Temple: Covering an area of 7.6 hectares, the Temple is the third largest Confucian temple in China. It has operated as school for nearly 750 years and was so successful that more than half of all Yunnan successful candidates in imperial examinations come from Jianshui.
2Chaoyang Gate: Located at the centre of town, Chaoyang Gate is an imposing Ming edifice. There is no charge to walk up into the gate and admire the building and views of Jianshui.
3Yuanyang Rice Terraces: The terraces around dozens of outlying villages have their own special characteristics, often charging with the daylight. Duoyishu has the most awesome sunrises and is the one you should not miss. Quanfuzhuang is a less-crowded alternative and has easy access down to the terraces. Bada and Laohuzui are best for sunsets.
Most Popular Yuanyang & Jianshui Tour Packages
Your journey will be fully tailored to your schedule, interests and budget.
Tailor-make your Yuanyang & Jianshui Tour
Too many choices? Send us a quick inquiry so that we can offer you an itinerary with price for your information. This short inquiry is FREE and NOT a commitment for booking.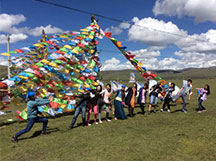 Start planning your tailor-made adventure to the Third Pole by contacting one of our certified specialists.