Jianshui is a charming historical and cultural town and enjoys a great reputation as a "Museum of Ancient Buildings and Residential Houses", with old buildings, an enormous Confucian temple, a cave laden with swallows, and some of the best steampot cooking and barbecue you will find in Yunnan. Actually, Yuanyang is split into two parts: Nansha, the new town, and Xinjie, the old town from which 20-minutes driving journey. Xinjie is the one you want, so make sure you get off there.
Covering an area of 7.6 hectares, Confucian Temple is the third largest Confucian temple in China. It has operated as school for nearly 750 years and was so successful that more than half of all Yunnan successful candidates in imperial examinations come from Jianshui. Located at the centre of town, Chaoyang Gate is an imposing Ming edifice. You can walk up into the gate and admire the building and views of Jianshui for free. Yuanyang Rice Terraces around dozens of outlying villages have their own special characteristics, often charging with the daylight. Duoyishu has the most awesome sunrises and is the one you should not miss. Quanfuzhuang is a less-crowded alternative and has easy access down to the terraces. Bada and Laohuzui are best for sunsets.
Most Popular Yuanyang & Jianshui Tour Packages
3rdpoletour.com handpick the best Yuanyang Jianshui tour packages for you to explore the marvelous landscape of Rice Terraces in Yuanyang, well-preserved ancient houses and temples in Jianshui and appreciate the Naxi culture in Lijiang, splendid views of Erhai Lake & Cangshan Mountain in Dali, fascinating Stone Forest in Kunming, etc.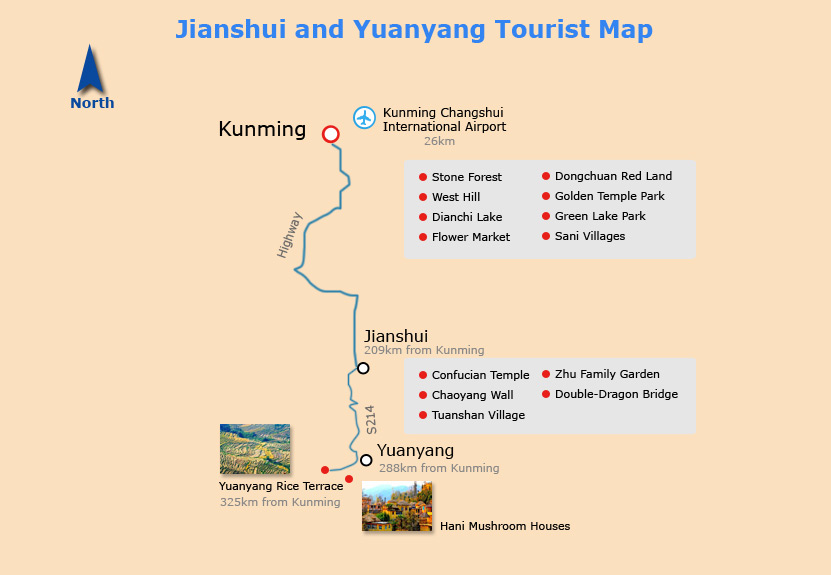 Quick Facts of Yuanyang & Jianshui
Yuanyang Rice Terraces (144 - 2,939m), Jianshui Ancient Town (1,300 - 2,515m)

All Year Round (especially March to April and September to November to visit Jianshui Ancient Town, November to next March to watch Yuanyang Rice Terraces)

Confucian Temple, Chaoyang Gate, Yuanyang Rice Terraces, etc.

There is no railway and airport accessing to Yuanyang. So the most convenient way to get to Yuanyang Rice Terraces is by road from Kunming South Bus Station and Jianshui Bus Station.
Eager to Go? Still have some questions or already got your own travel ideas? Please feel free to contact us. Our experienced travel experts on the Third Pole will help you arrange your trip according to your requirements.
Let's Plan Your Trip