We offer Sichuan group tours and Tibet group tours for tourists from over the world to explore the marvelous land in the third pole on the Earth. We know it is always expensive to take a trip to Tibet and the remote area of Sichuan Province on a private tour. In order to make you experience authentic characters of your destination at a better low price, we pick up the most classic tours connecting every single highlight of each place.
All of our group tours are shown as below with scheduled departure date and price. You can select your favorite route or Check out our Tour Calendar. If you don't find a tour on our schedule that fits yours, please contact us to let us know. We can help you to find more like-minded tourists to join in your tour.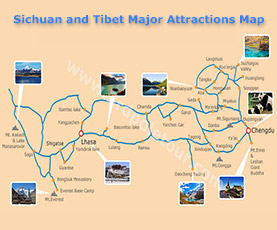 All Sichuan Small Group Tours
Sichuan, the land of abundance, is not only famous for the cute Giant Panda and amazing Jiuzhaigou. It also owns many cultural and natural treasures, like Mt. Siguniang, the oriental Alps, Daocheng Yading – the last Shangri-la, Mount Gongga – the king of mountains in Sichuan, and so on. You will also experience a different Tibetan culture in Seda, Danda and Kangding.
Here we offer our hand-picked no shopping group tours to the most recommended destinations in Sichuan Province with local English and Mandarin speaking guide. Whether you want a classic city tour in Chengdu or a popularbr trip to Jiuzhaigou, whether you want a mountain hiking or a culture explore, you can find something suits you here.
All Tibet Small Group Tours
Tibet, the treasure on the third pole of the Earth, attracts millions of tourists to explore its mysterious culture and religion and appreciate the stunning landscaped of the plateau. Gathering like-minded travelers together, we offer you small group tours in Tibet that will take you to explore the most essential part of Tibet.
Also, our local tour leaders are what make our Tibet small group tours truly special. All of our tour leaders are local Tibetan, who have been tour guides for many years. They know Tibet better than any other does, and they love to share the knowledge of their hometown with tourists from all over the world and let them experience the authentic Tibet.