Chengdu, a laid-back, relaxed but modern city, is the transport hub for the southwest of China, the most closed place to access to Tibet either by plane, train or overland, and one of the 72 hours visa-free cities, so most travelers will pass through at least once during their forays into China's southwest.
Usually, tourists will spend two or three days to explore Chengdu for its wonderful teahouses found in many parks and temples, fabulous spicy food with Sichuan pepper, decent nightlift scene, relaxing lifestyle, cute Giant Pandas or the holy Buddhist mountain Mt.Emei, or the dromatic face-changing opera.
Most Popular Chengdu Tour Packages
3rdpoletour.com provides a variety of Chengdu tours accommodating different budgets and interests. All itineraries below are private and flexible, customizable to your travel style and tastes.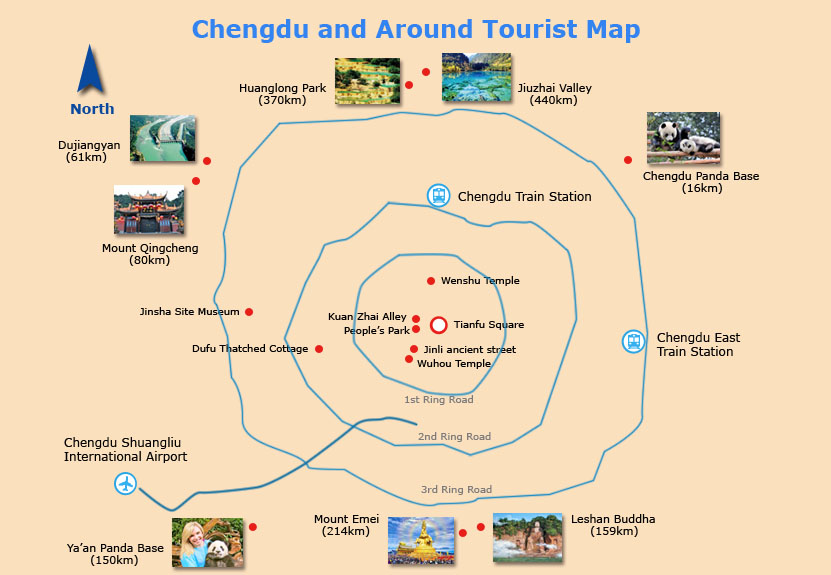 Quick Facts of Chengdu City
Giant Panda Breeding Research Base, Wenshu Temple, Jinsha Site Museum, Wuhou Temple, Renmin Park, etc.

As the hub of transportation in Southwest China, Chengdu has a very convenient traffic system with Shuangliu International Airport, Chengdu North Railway Station, Chengdu East Railway Station and Chengdu South Railway Station. Tourists can easily get to Chengdu by air, train and overland.
Chengdu City Travel Guide
To help you plan a wonderful visit to Chengdu, 3rdpoletour.com offers you the ultimate travel guide on every aspect of Chengdu tour and trip.
Eager to Go? Still have some questions or already got your own travel ideas? Please feel free to contact us. Our experienced travel experts on the Third Pole will help you arrange your trip according to your requirements.
Let's Plan Your Trip