Chengdu Tour
One of the most relaxed modern cities in China, Chengdu is filled with ancient and modern wonders that will make your tour one of the best in the world. From the ancient Wuhou and Wenshu temples to the stunning Jinli Ancient Street and the amazing Chengdu Panda Base, this beautiful city in the center of Southwest China's is one of the most popular tourist destinations in China.
If the city is not enough, there are also a wealth of places to visit outside the city limits that will leave you breathless, like Jiuzhaigou Hunaglong, Leshan Emeishan, Daocheng Yading, Mt. Siguniang, etc. And as for the tourists wanting to visit other Chinese cities, we can also tailor-make your China Chengdu tour to suit your own personal needs.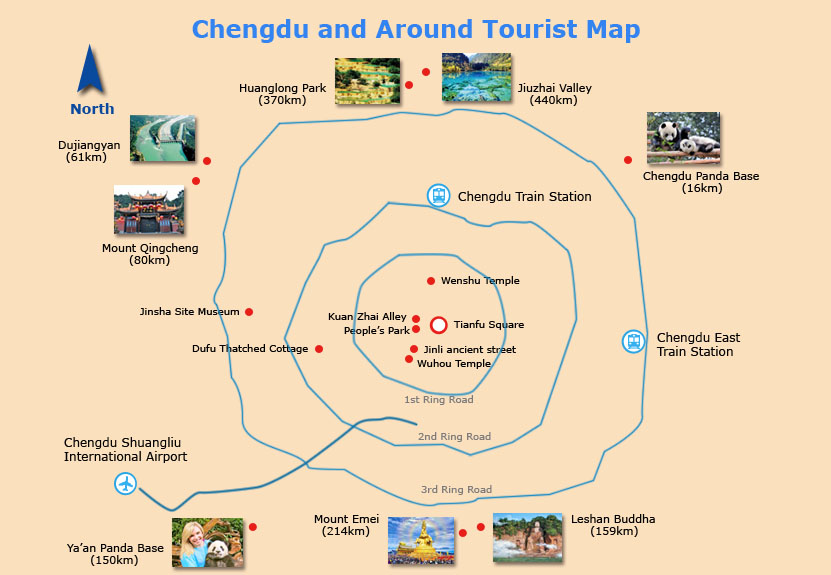 Map of Chengdu and Surrounding Tourist Attractions
Most Popular Chengdu Tour Packages
We have a huge number of popular packages for your trip in Chengdu, which can make the whole trip much more interesting, like exploring the back alleys in an amazing food-based tour, taking one-day sightseeing tour around the city, capturing the beauty of Jiuzhaigou and Huanglong National Parks, visiting the panda bases in and around Chengdu, etc.
China Tour from Chengdu
Select from a number of tours of the other areas of China that you can reach from Chengdu, including the holy land of Tibet, the Terracotta Warriors of Xi'an, the Great Wall of Beijing, the Silk Road in Dunhuang, and the most diverse ethnic groups in Yunnan.
China Tour Including Chengdu
We also have a number of tours of China that include Chengdu, starting in Beijing, Shanghai, Xian, Hong Kong, and even as far away as Urumqi. These tours make the most of the beautiful areas of China and include trips to Chengdu in the tour packages.
Beijing
Shanghai
Hong Kong
Xian
Guangzhou
Chongqing
Zhangjiajie
Urumqi
Find the Best Way to Chengdu from Your Country
We can help you with the best ways to get to Chengdu from your home country. Whether you are traveling from Singapore or Malaysia, we can help with your planning to make your way to Chengdu for your lifetime China tour.
More Frequent Asked Questions on Chengdu Tour
Q1. Top Things to Do in Chengdu
As one of the top tourist destinations in China, Chengdu is filled with amazing places to see and visit. You can spend a day sightseeing around the city, visiting the awesome sites of the ancient temples and Tianfu Square, or take a trip to the Giant Panda Base in Chengdu and join in the panda volunteer program at Dujiangyan, Wolong and Bifengxia. Or you can take a trip outside the city to visit the beauty of the Jiuzhaigou Valley and Huanglong National Park, travel by river boat to visit the Giant Leshan Buddha, and hike up to the top of Mount Emei, one of the Four Sacred Mountains. See more details about What to see in Chengdu
Q2. How many days do I need to tour Chengdu?
How long you need for touring Chengdu properly largely depends on what you want to see and experience here. You can stop for a single day to just go sightseeing around the city, or you can stay for 3-4 days to make the most of the amazing attractions Chengdu has to offer, both inside and outside the city. Some of the tours out of the city, to places like the Leshan Buddha and the Dujiangyan Panda Base and Dam, can take the whole day, so you need a couple of days at least to see the highlights of Chengdu. See more details about Most Recommended Chengdu Itineraries
Q3. When is the best time to visit Chengdu?
Chengdu can be visited throughout the year, but there are times when it is better to visit, for the best weather in this monsoon-affected southwest Chinese city. The best periods are from March to June and September to November, the spring and autumn seasons in Sichuan Province. Spring is a refreshing time of year to visit, with the new growth on the trees, while the autumn colors can be amazing for photos. Summer can get a little wet with the monsoon, and while the winter is not that bad, it can get a little chilly for some. See more details about Chengdu Weather and Climate
Q4. How to get to Chengdu and travel beyond?
Chengdu is the central hub for transportation in Southwest China, so there are few problems with getting to the city from around the world. The Chengdu Shuangliu International Airport has inbound flights from all across China, especially from Beijing and Shanghai, as well as international flights from almost every major Asian country. And for those traveling from a little further afield, there are international flights from around the world, including the UK, Australia, France, and the United States. And for those that have no direct flights, there are plenty of connections you can use to get here easily. And as a major transport hub in Southwest China, there are connections by rail and road to many destinations, like Jiuzhaigou, Leshan, Mount Emei, etc. See more details about Chengdu Transportation
Q5. How about the accommodation and hotels in Chengdu?
The hotels in Chengdu have become well known over the years for their quality accommodations and excellent services. The city is also well known for having a wide range of hotel types, from amazing five-star luxury to the cheapest boarding houses and backpacker hostels, and everything in between. The range of hotels is such that this amazing city has something to suit almost every taste and budget, and you will find them all clean and comfortable, no matter what level you choose. And prices are accommodating for those on a budget, starting at as little as just three Dollars a night. See more details about Chengdu Hotel and Accommodation
Q6.What to eat in Chengdu?
Chengdu is renowned for being the home of the most popular Chinese food in the world, the famous Sichuan cuisine. And who doesn't love Sichuan cooking? Hotpot is one of the most popular dishes to find in the city, renowned for its spicy and hot flavors. Or you could try the local Chengdu Wonton, known locally as Long Chao Shou, or the infamous Ma La tang, the essence of the Chengdu dining culture. Defined as possibly the most mouth-numbing spicy dish in Sichuan, it is a must-try for lovers of spicy hot foods. And with hundreds of restaurants across the city, not to mention the many street-food vendors, you are really spoilt for choice. See more details about Chengdu Dining
Q7.How much does a Chengdu tour cost?
The cost of a Chengdu tour largely depends on how long you are staying in Chengdu, and where you are staying. The longer you stay, the more the trip costs, and your accommodation adds to the cost of the trip. Luxury hotels are obviously much higher in cost than a budget backpacker dormitory. For more information on the exact cost of your tour, contact our helpful and professional tour consultants, who would be happy to help you decide on your first Chengdu trip.
Chengdu Travel Guide
If you need help on deciding where to go and where to stay in Chengdu, our dedicated articles on this amazing city can help you with more information on hotels, dining, transport, climate and weather, and what to see or where to go.
Eager to Go? Still have some questions or already got your own travel ideas? Please feel free to contact us. Our experienced travel experts on the Third Pole will help you arrange your trip according to your requirements.