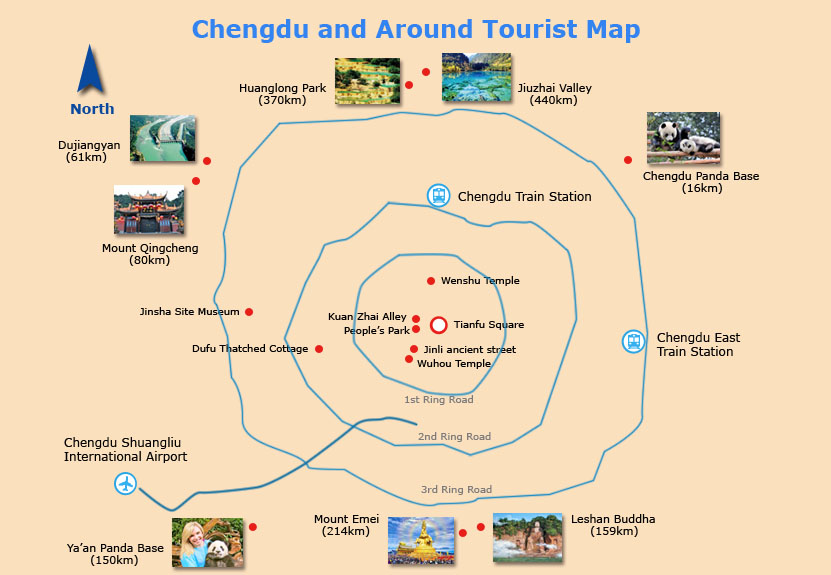 Chengdu, a laid-back, relaxed but modern city, is the transport hub for the southwest of China, the most closed place to access to Tibet either by plane, train or overland, and one of the 72 hours visa-free cities, so most travelers will pass through at least once during their forays into China's southwest.
Usually, tourists will spend two or three days to explore Chengdu for its wonderful teahouses found in many parks and temples, fabulous spicy food with Sichuan pepper, decent nightlift scene, relaxing lifestyle, cute Giant Pandas or the holy Buddhist mountain Mt.Emei, or the dromatic face-changing opera. 3rdpoletour.com provides a variety of Chengdu tours accommodating different budgets and interests. All itineraries below are private and flexible, customizable to your travel style and tastes.
Highlights of Chengdu
1Giant Panda Breeding Research Base: Home to nearly 50 giant and red pandas, the Base is one of Chengdu's most popular tourist attractions, and it focuses on getting these sexually reluctant creatures to breed. Try to visit the base in the morning at the feeding time about 9:30 - 11:30.
2Wenshu Temple: The Tang-dynasty monastery is Chengdu's largest and best-preserved Buddhist temple, where there is a low murmur of chanting, and despite frequent crowds of worshipers every day.
3Jinsha Site Museum: The 6000+ relics found here, which date from 1200 to 600 BC, include both functional and decorative items, from pottery and tools to jade artefacts, stone carvings and ornate gold masks.
4Wuhou Temple: Surrounded by gardens with mossy cypresses, the temple honours several figures from the Three Kingdoms period. Just east of the temple is Jinli ancient street crammed with souvenir junk stalls and local snacks.
5Renmin Park: a place for local dancing, singing, strolling and Taichi practicing. The highlights are: He Ming Tea House (鹤鸣茶馆), walking around, relaxing and marriage-seeking letters
Most Popular Chengdu Tour Packages
Your journey will be fully tailored to your schedule, interests and budget.
Start planning your tailor-made adventure to the Third Pole by contacting one of our certified specialists.