Rough-and-ready Qinghai, which means Blue Sea in Chinese, is a classic off-the-beaten-track territory, occupying a vast swathe of the northeastern chunk of the Tibetan plateau.
Though travelling around is both inconvenient and uncomfortable, and you can go for days without meeting another tourist, those wonderful moments of solitude, those middle-of-nowhere high-plateau vistas and those chances to discover some of the more remote communities of China's ethnic minorities make the long bus rides, the cold weather and the often head-achingly high altitude well-worth bearing.
Speak to someone who's been there
Tell us your travel plan and ideas and one of our travel specialists will tailor a trip just for you.
Most Popular Qinghai Tour
Three Pole Tour has selected the must-see destinations in Qinghai and designed a collection of special packages
Tailor-make your Qinghai Tour
Too many choices? Send us a quick inquiry so that we can offer you an itinerary with price for your information. This short inquiry is FREE and NOT a commitment for booking.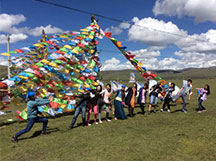 Start planning your tailor-made adventure to the Third Pole by contacting one of our certified specialists.