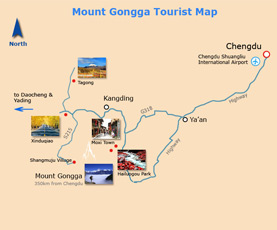 With the main peak of 7,556 meters, Mount Gongga (Minya Kongka), praised as the "King of Shushan", is the highest mountain in Sichuan Province. Due to the climate of moist, snowy and very changeable, climbing Mt. Gongga is an extremely challenging and difficult, even than climbing Mt. Everest. Explore here and see more than 50 snow-capped peaks, and fascinating surroundings.
Highlights of Mount Gongga
1Mount Gongga: With the highest peak of 7,556 meters above sea level, Mount Gongga, also called Minya Konka, is the highest mountain in Sichuan Province and covered by white snow all year around. Standing on the viewing deck, tourists can enjoy the magnificent more than 50 snow-capped peaks.
2Maritime Glaciers: As one of the places where maritime glaciers originate, Mount Gongga is best well-know for its 159 glaciers which cover more than 390 square kilometers. The largest is Hailuogou Glacier No.1 at 6km long and 0.4 to 0.7km wide, which is believed to have formed 1,600 years ago.
3Konka Monastery: Built in 1285, Konka Monastery has a history of more than 600 years and all the living Buddhas in Konka had practiced here.
Most Popular Mount Gongga Tour Packages
Your journey will be fully tailored to your schedule, interests and budget.
Tailor-make your Mount Gongga Tour
Too many choices? Send us a quick inquiry so that we can offer you an itinerary with price for your information. This short inquiry is FREE and NOT a commitment for booking.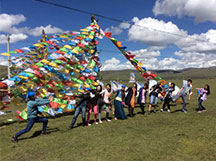 Mount Gongga Travel Guide
Start planning your tailor-made adventure to the Third Pole by contacting one of our certified specialists.