Mount Gongga Tour
With the main peak of 7,556 meters, Mount Gongga (Minya Kongka), praised as the "King of Sichuan Mountains", is the highest mountain in Sichuan Province. Due to the climate of moist, snowy and very changeable, climbing Mt. Gongga is an extremely challenging and difficult, even than climbing Mt. Everest. Explore here and see more than 50 snow-capped peaks, and fascinating surroundings.
Basic Fact:
Altitude: Mount Gongga (7,556m), Gongga Temple (3,750m)
Best Time to Go: All Year Round (especially late April to early June and October to mid-November)
What to See: Mount Gongga, Maritime Glaciers, Konka Monastery, etc.
How to Go: Tourists can get Mount Gongga by flight from Chengdu Shuangliu International Airport to Kangding Airport then take the shuttle bus to downtown Kangding and hire a car or walk to Laoyulin, the start point of the Mount Gongga hiking. Or you can take a long-distance bus to Luding, Hailuogou or Kangding from Chengdu Xinnanmen Bus Station, Chengdu Shiyang Bus Station or Chengdu Chengbei Bus Station, and then rent a car to Mount Gongga.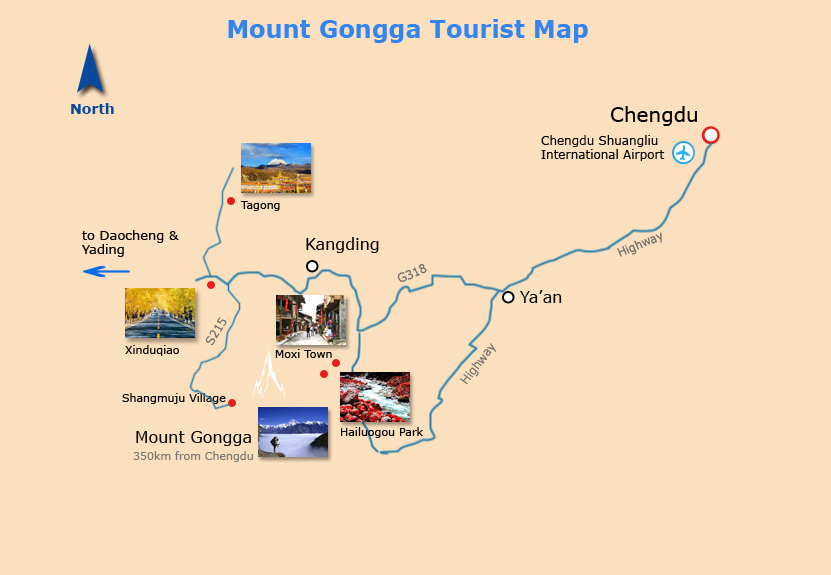 Mount Gongga Tourist Map (click to enlarge map)
Most Popular Mount Gongga Tour Packages
3rdpoletour.com offers you kinds of Minya Konka tour packages with different budgets and interests. Not only can you appreciate the breathtaking landscape along Mount Gongga trekking trail, but also explore the authentic Tibetan culture in western Sichuan.
More Frequently Asked Questions on Mount Gongga Tour
Q1. How to Get to and Travel in Mount Gongga
Get to Mount Gongga
1. The regular bus depart from Chengdu Xinnanmen Station to Hailuogou Valley every morning. The whole journey is 6-7 hours and costs you about 120RMB. You can get off directly at Hailuogou (Moxi Town) at the foot of Gongga Mountain.
2. Taking flight to Kading Airport and then take the regular bus to Gongga Mountain and get off at Tianwan.
Travel in Mount Gongga
Gongga Mountain does not have a perfect internal public transportation system, and chartered cars, cable car (160RMB per person), horse riding, hiking, and self-driving are the main ways of touring.
Q2. What to Pack for Mount Gongga Trek
Clothing
Windproof and waterproof outdoor jacket, warm fleece jacket, underwear, removable quick-drying pants, down pants, hiking shoes, sports sandals, sweat socks, sunhats, gloves, ultraviolet-proof glasses, headscarves, other personal clothing (disposable underwear, undershirt T-shirt, toothpaste, toothbrush, towel, sunscreen, moisturizer, lipstick, hand cream).
Trekking equipment
Vacuum cup, headlight, trekking pole, knee-pads, large water-proof backpack (consigned by horse or yak), go-bag (carrying road meals and other personal belongings).
Camping equipment
Sleeping bag, tent, tent mat, moisture-proof pad, burner, pot.
Q3. How to Avoid Altitude Sickness in Mount Gongga Tour
1. Drink a small amount of water (one sip each time, the number of times increases) to prevent thrombosis , 4000 ml per day is appropriate.
2. Quit smoking.
3. Try to avoid bare skin, wear sunscreen on the exposed skin and UV-resistant sunhat.
4. Avoid violent activities and emotional excitement.
5. Advise not to take bath for avoiding hypoxia and catching cold.
6. Maintain the dietary principles of high sugar, high plant protein and low fat.
Mount Gongga Travel Guide
Need more professional help for planning your upcoming Mount Gongga trekking tour? No worries! Click the latest Minya Konka travel advice and get to know loads of useful tips before heading to the highest mountain in Sichuan Province.
Eager to Go? Still have some questions or already got your own travel ideas? Please feel free to contact us. Our experienced travel experts on the Third Pole will help you arrange your trip according to your requirements.