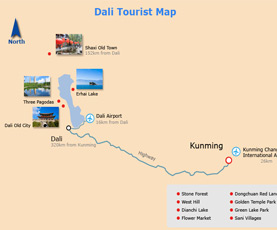 With a history of more than 4,000 years, Dali is one of the most popular destinations for tourists who want to discover the real Yunnan. Loafing around the ancient town will be one of your essential Yunnan experience, to enjoy the traditional atmosphere, colorful minorities' cultures, rewarded mild climate and beautiful landscapes. Surrounding Dali there are fascinating possibilities for exploring, especially by bicycling, hiking and climbing.
Highlights of Dali
1Three Pagodas: Lying at a scenic location at the foot of Mt. Cangshan and facing Erhai Lake, it is a symbol of the history of Dali City and a record of the Buddhism development in the area. The tallest one is 70m and others are 42m high.
2Erhai Lake: The Lake dominates the local psyche. Covering 250 square kilometers, it is dotted with trails perfect for bike rides and villages to visit.
3Dali Old City: With a history of 600 years, the ancient is one of Yunnan's most popular tourist destinations. Here, tourists can see temples and architecture 1000 years old, learn about the history of ancient city and native peoples.
4Shaxi Old Town: About 120km northwest of Dali, Shaxi was a crucial node of the old Tea-Horse Roads that stretched from Yunnan to India. The village's wooden houses, courtyards and narrow, winding streets make it a popular location for period Chinese movies and Ti Shows.
Most Popular Dali Tour Packages
Your journey will be fully tailored to your schedule, interests and budget.
Tailor-make your Dali Tour
Too many choices? Send us a quick inquiry so that we can offer you an itinerary with price for your information. This short inquiry is FREE and NOT a commitment for booking.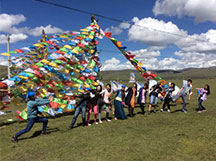 Start planning your tailor-made adventure to the Third Pole by contacting one of our certified specialists.