3rdpole Tour Destinations
Encompassing the Himalaya-Hindu Kush mountain range and the Tibetan Plateau, The Third Pole area is named because this region stores more snow and ice than anywhere in the world outside the Polar Regions.
Covering the west regions of China, including Tibet, Xinjiang, Sichuan, Yunnan, Qinghai and Gansu, this region offers much to explore. You can see how the giant pandas live in their hometown, explore the Holy land Tibet, follow the ancient Silk Road in Xinjiang, experience the colorful ethnic culture in Yunnan, etc.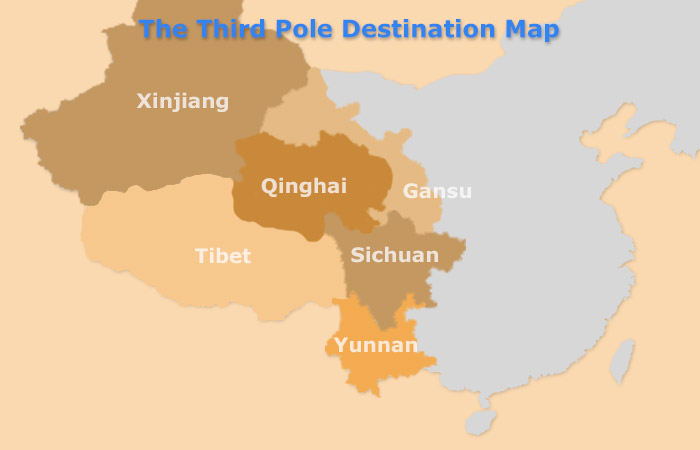 Best of Our Thrid Pole Tours by Destination
The Third Pole covers an area of more than 4,917,000 square kilometers, including the destinations of six provinces on Chinese territory. The altitudes are from -154m of Turpan to 8848m of Mount Everest. Here you can browse our Third pole tours by regions to pick up one of your favorite tour from our kinds of tour packages in each destination.
Top 10 Most Popular Destinations & Attractions
Haven't got any travel idea yet? Here are the Top 10 most popular travel destinations in Third Pole area that chosen by our former customers. You can choose one and see more tour packages with useful travel guides. Just come to see why it is so popular among travelers.
Tailor Your Trip to the Third Pole in Your Way
Your destination is just one step beyond you!
Just tell us your travel plan, or any question about organizing the trip to your destination, our professional travel expert will get back to you as soon as possible and offer you the experienced advice to help you arrange your trip to the land.