Located at the far southwest of China, bordering Vietnam, Laos and Burma, Yunnan is perhaps the most diverse province in all China, both in its extraordinary mix of ethnic minorities and in the splendour of its landscapes.
Of China's 55 ethnic minorities, 51 minorities are living in the region, providing a glimpse into China's hugely varied mix of humanity. Then there is the eye-catching contrasts of the land itself from north to south: snow-capped mountains and Tibetan Buddhism cultures in Shangri-La as you edge towards Tibet; ancient towns and villages, and perfect hiking places in Dali and Lijiang; flowers markets, Karst landform and red land in Kunming; soul-recharging glimspes of the sun over rice terraces in Yuanyang; and dense tropical rainforest and unique Dai's festivals in Xishuangbanna.
Speak to someone who's been there
Tell us your travel plan and ideas and one of our travel specialists will tailor a trip just for you.
Most Popular Yunnan Tour
Three Pole Tour has selected the must see destinations in Yunnan and designed a collection of special packages
Tailor-make your Yunnan Tour
Too many choices? Send us a quick inquiry so that we can offer you an itinerary with price for your information. This short inquiry is FREE and NOT a commitment for booking.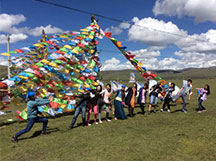 Start planning your tailor-made adventure to the Third Pole by contacting one of our certified specialists.