Known in Tibetan as Kang Rinpoche, or "Precious Jewel of Snow", the hulking pyramidal-shaped Mt. Kailash seldom needs to be pointed out to travelers: it just dominates the landscape. Traveling here to one of the world's most beautiful and remote corners brings a bonus: the three-day pilgrim path around the mountain erases the sins of a lifetime. Our Tibet travel specialists can help you arrange an unforgettable Mt.Kailash Pilgrimage tour, either a join-in group tour or a priver trip, for you with their years of personal experience.
As the most sacred mountain in Asia, Mount Kailash rises from the land like a giant four-sided 6,714m-high stupa, worshipped by more than a billion Buddhists, Hindus and tourists. Not far from the sacred mountain is the Lake Manasarovar, the most venerated lake in Tibet. A pilgrimage to this isolated, timeless, breathtaking and fascinating spiritual spot is like a journey within yourself.
Most Popular Small Group Tours to Mount Kailash
All of our group tours to Mount Kailash cover the most essential parts of Tibet, such as the city trip in Lhasa, an overnight stay in Everest Base Camp and the overland journey along the Sino-Nepal highway. Just pick up your favorite travel route and see the detailed departure dates with price. An worry-free trip to the holy mountain is waiting for your!
Customized Mount Kailash Tour Packages
It is time to arrange your own kora around Mount Kailash! Here we offer the classic travel routes to Mount Kailash, which can be customized to your interests, requirements and budget.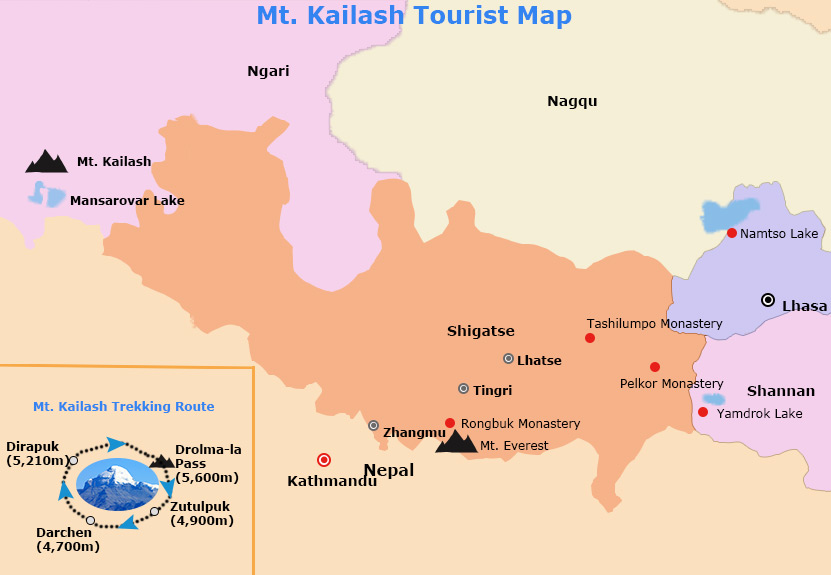 Quick Facts of Mount Kailash
Mount Kailash, Lake Manasarovar, Sakya Monastery, Peiku-tso Lake, Guge Kingdom, etc.

Tourists can get to Mount Kailash by car, bike, and motorbike from Lhasa. Besides, entering from Nepal via Gyirong Port is also available. In general, tourists will take a get to Darchen first, and then, do a three-day kora around Mount Kailash.
Tibet Travel Guide
Check our ultimate guide for Tibet tours! For further questions, please feel free to contact us.
Eager to Go? Still have some questions or already got your own travel ideas? Please feel free to contact us. Our experienced travel experts on the Third Pole will help you arrange your trip according to your requirements.
Let's Plan Your Trip