Known in Tibetan as Kang Rinpoche, or "Precious Jewel of Snow", the hulking pyramidal-shaped Mt. Kailash seldom needs to be pointed out to travelers: it just dominates the landscape. Traveling here to one of the world's most beautiful and remote corners brings a bonus: the three-day pilgrim path around the mountain erases the sins of a lifetime. Our Tibet travel specialists can tailor make an unforgettable private Mt.Kailash Pilgrimage tour for you with their years of personal experience.
Highlights of Mount Kailash
1Mount Kailash: As the most sacred mountain in Asia, it rises from the land like a giant four-sided 6,714m-high stupa, worshipped by more than a billion Buddhists, Hindus and tourists.
2Lake Manasarovar: The most venerated lake in Tibet, a pilgrimage to this isolated, timeless, breathtaking and fascinating spiritual spot is like a journey within yourself.
Most Popular Mount Kailash Tour Packages
Your journey will be fully tailored to your schedule, interests and budget.
Tailor-make your Mount Kailash Tour
Too many choices? Send us a quick inquiry so that we can offer you an itinerary with price for your information. This short inquiry is FREE and NOT a commitment for booking.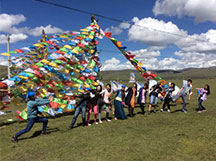 Start planning your tailor-made adventure to the Third Pole by contacting one of our certified specialists.