PANDA TOUR
Giant Panda, a peaceful and lovely creature with a distinctive black and white coat and prominent black eyes, are considered as a living fossil and an endangered species in the world, attracting tourists from all over the world.
Sichuan Basin, located at the southwest of China, is the hometown of Giant Pandas. There are more than one Panda base in total. Among them, Chengdu Giant Panda Breeding Center is abosultely the most famous panda base in China to see many pandas. In fact, there are another three panda bases in Sichuan province around Chengdu city. The panda valley in Dujiangyan city, which is nameds after the famous Dujiangyan Irrigation System is the closest panda base to Chengdu, where you can hold a panda and do the panda volunteer job. Situated southwest to Chengdu city, there is another Panda Base inside Bifenxia Wild Animal Aera in Ya'an city. The famous Wolong Panda Base, which was damaged by the Wenchuan Earthquarke in 2008, now is re-opened for public to do the panda volunter job and even to track the wild apandas in the forest.
We designed the classic Panda tours below to meet different needs of our clients: 1) be a panda volunteer to take care of the pandas; 2) take pictures with holding a cute young panda; 3) or just see them in person. Choose from the following tours at the best price, or tailor-make your special Giant Panda Tour.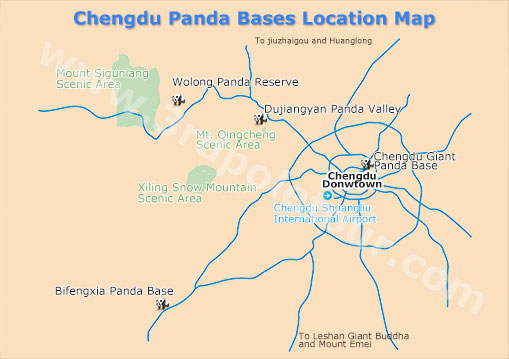 Most Popular Giant Panda Tour Packages
Your journey will be fully tailored to your schedule, interests and budget.

Panda Volunteer Job
Panda Volunteer job is an interesting and meaningful programme for all panda lovers. It is a rare chance that you can only experience in Chengdu, such as cleaning the panda enclosures, make the cake for pandas and even feed the panda by yourself.
> See More Details
All about Sichuan Chengdu Panda Bases
Start planning your tailor-made adventure to the Third Pole by contacting one of our certified specialists.