Genie Holy Mountain, also named Geyen Mountain, is the third highest mountain in Sichuan with an altitude of 6204m after Gongga Mountain and Mount Siguniangshan. Under the sunlight, the glittering peak is covered with white snow all year around.
Covering 500 square kilometers, Genie area features "supernatural, magnificent, beautiful" and is one of best places for you to explore and hike in western Sichuan, and others like Yala Kamiyama, Mt. Gongga, Mt. Siguniang. Genie Mountain Area is an untapped scenic spot, where is rarely known by people, so far, tourists can only hike or ride a horse to go there from Zhangna and Lamaya townships. The perfect time for Genie Mountain Hiking is September to October. And standing at 200 or 300 kilometers away, you can also view three spectacular peaks towering straight into the clouds.
Besides, you can also pay a visit to Lenggu Temple. Built in 1164, the temple nestles the Xiaozha Mountain and faces the Genie Mountain, housing three treasures: a female antler, an anti-helical conch and a white area stone honored as "the heart of Genie".
Most Popular Genie Mountain Tour Packages
3rdpoletour.com takes you to trek Mountain Genie, visit the paradise of photography - Xinduqiao, and expreience the traditional Tibetan life in Litang in just one go!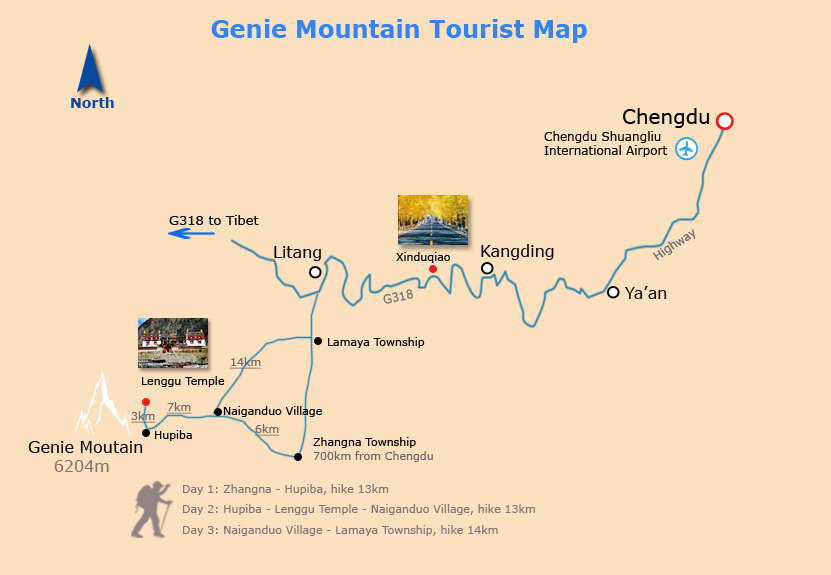 Quick Facts of Geyen Mountain
Genie Main Peak (6,204m), Xiaozha Holy Mountain (5,807m), Kemailong Holy Mountain (5,780m), Zhangna (3,700m), Naiganduo Village (3,710m), Hupiba (3,900m), Lenggu Temple (4,150m), Lazai Yakou (4,180m)

All Year Round (especially April, May, June, September and October)

Genie Holy Mountain, Lenggu Temple, Genie Mountain Hiking, etc.

Tourists can get to Mount Genie by flight from Chengdu Shuangliu International Airport to Kangding Airport then take the shuttle bus to downtown Kangding and get on the regular bus from Kangding Bus Station to Litang. Or you can take the long-distance bus from Chengdu Xinnanmen Bus Station to Litang. Afterwards, you can rent a private car to Lamaya or Zhangna township and hike or ride a horse to Mt.Geyen.
Genie Mountain Travel Guide
How to get to Mount Genie? How to plan a wonderful trek to Geyen Mountain? No worries! 3rdpoletour.com are ready here to help you out! Check the latest Genie Mountain travel guide.
Eager to Go? Still have some questions or already got your own travel ideas? Please feel free to contact us. Our experienced travel experts on the Third Pole will help you arrange your trip according to your requirements.
Let's Plan Your Trip