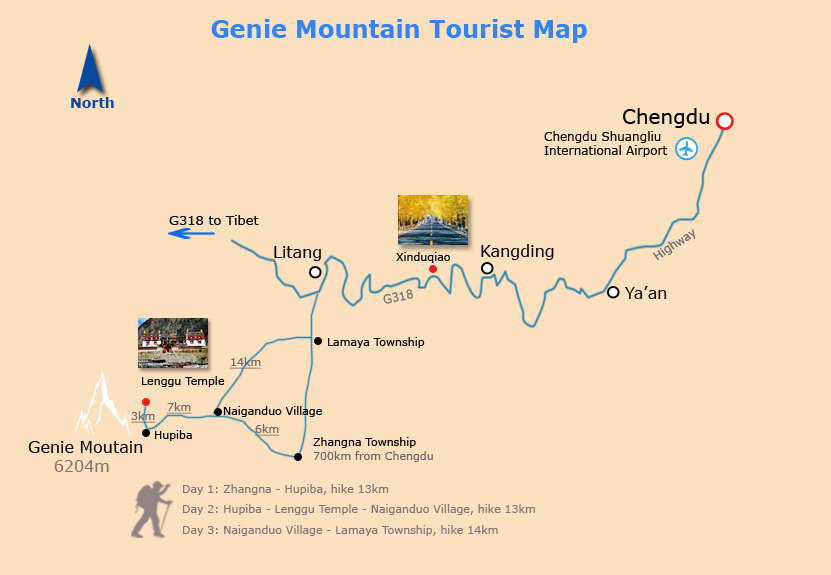 Genie Holy Mountain, also named Geyen Mountain, is the third highest mountain in Sichuan with an altitude of 6204m after Gongga Mountain and Mount Siguniangshan. Covering 500 square kilometers, Genie area features "supernatural, magnificent, beautiful", where is rarely known by people, so far, tourists can only hike or ride a horse to go there from Zhangna and Lamaya townships.
Highlights of Genie Mountain
1Genie Holy Mountain: The mountain is the third highest peak in Sichuan Province. Its peak is covered with white snow all year around. Under the sunlight, it is glittering. Standing at 200 or 300 kilometers away, you can also view three spectacular peaks towering straight into the clouds.
2Lenggu Temple: Built in 1164, the temple nestles the Xiaozha Mountain and faces the Genie Mountain. In the temple, there are three treasures: a female antler, an anti-helical conch and a white area stone honored as "the heart of Genie".
3Genie Mountain Hiking: Genie Mountain Area is an untapped scenic spot. It is one of best places for you to explore and hike in western Sichuan, and others like Yala Kamiyama, Mt. Gongga, Mt. Siguniang. The perfect hiking time is September to October.
Most Popular Genie Mountain Tour Packages
Your journey will be fully tailored to your schedule, interests and budget.
Tailor-make your Genie Mountain Tour
Too many choices? Send us a quick inquiry so that we can offer you an itinerary with price for your information. This short inquiry is FREE and NOT a commitment for booking.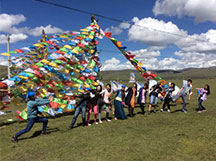 Genie Mountain Travel Guide
Start planning your tailor-made adventure to the Third Pole by contacting one of our certified specialists.