Dujiangyan is a county-level city under the jurisdiction of Chengdu. It is one of hot destinations around Chengdu, for the Dujiangyan Irrigation System. Without the System, Chengdu plain can not be the Land of Abundance.
Qingchengshan is a town under Dujiangyan city, about 66km away from Chengdu. It is considered as a hot destination for the Taoism mountain, on which you can find plum and palm trees, caves, pavilions and gorgeous, centuries-old wooden temples and more.
Most Popular Dujiangyan & Qingchengshan Tour Packages
3rdpoletour.com has mapped out eight classic Dujiangyan Qingchengshan tour itineraries for you with different duration and highlights. Except enjoying bird's view of Dujiangyan Irrigation System and exploring profound Taoism in Qingchengshan, we'll help you get a close contact with cute pandas in Dujiangyan Panda Base without crowds of tourists and stretch you trip to Leshan Giant Buddha and Mount Emei.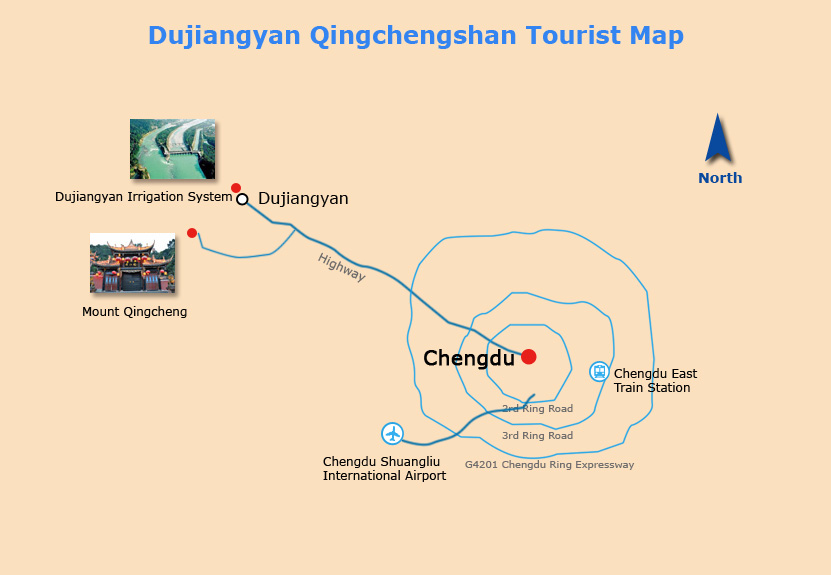 Quick Facts of Dujiangyan & Qingchengshan
Dujiangyan (592m); Qingchengshan (893m to 1260m)

All Year Round (especially spring, summer and autumn)

Dujiangyan Irrigation System, Mount Qingcheng, etc.

The most comfortable and fastest way for tourists to get to Dujiangyan and Qingchengshan is by high-speed train from Chengdu North Railway Station. It only costs you 15RMB for the half hour train ride. You can also take public bus from Chadianzi Bus Station and Xinnanmen Bus Station or charter a car to Dujiangyan and Mount Qingcheng.
Dujiangyan and Qingchengshan Travel Guide
Wanna take a glance of Dujiangyan Irrigation System built in ancient times and Taoism in Mount Qingcheng? Here we provide you with the most easy-to-use travel guide for your Dujiangyan Qingchengshan trip.
Eager to Go? Still have some questions or already got your own travel ideas? Please feel free to contact us. Our experienced travel experts on the Third Pole will help you arrange your trip according to your requirements.
Let's Plan Your Trip