Ruoergai Prairie, also named Zoige Grassland, is located in the northwest of Sichuan Province, and covers four counties: Ruoergai, Aba, Hongyuan and Rangtang. With many small blue lakes scattering in green grassland with high and wide visibility, Ruoergai Prairie looks like a magnificent brilliant emerald, which is well-known as one of "Top 10 Most Beautiful Wetlands" in China. Galloping a horse across the vast land, you will feel that you are the master of this amazing land. The best time to view the wild flowers at Huahu Lake (Flower Lake) is between June and July. And the First Bend of Yellow River possesses its unique beauty, of which the most mirable view happens at sunset when the gentle light glanced off the silently flowing river.
Most Popular Ruoergai Prairie Tour Packages
3rdpoletour.com offers you the most classic Ruoergai Prairie tour itineraries with combination to azure lakes and roaring waterfalls in Jiuzhaigou, colorful ponds and verdant forests in Huanglong, the prestigious Langmusi Monastery on the border of Sichuan and Gansu and Labrang Monastery in Xiahe.
HTML Source EditorWord Wrap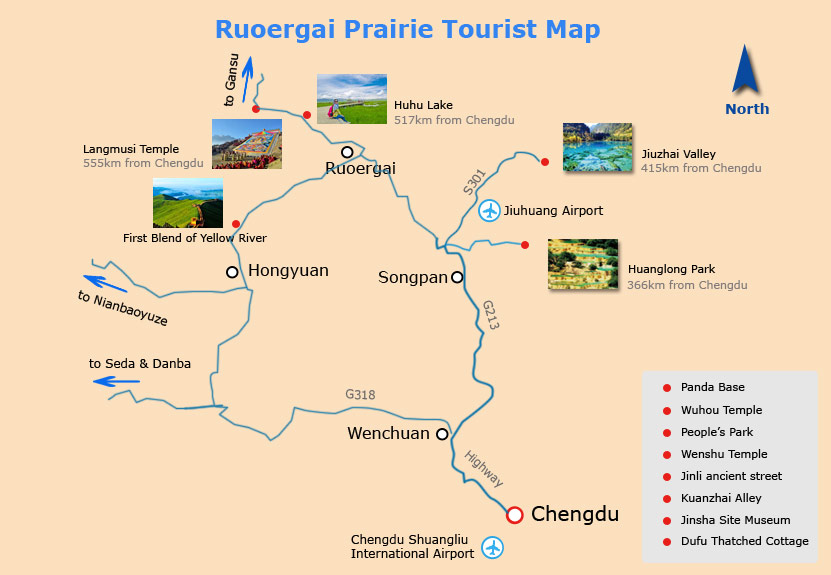 Quick Facts of Ruoergai Prairie
Ruoergai Grassland(3,300 to 3,600m), Huahu Lake (3,468m), Langmusi Temple (3,600m), Chuanzhusi (3,100m)

All Year Round (especially summer and autumn)

Ruoergai Prairie, Huahu Lake (Flower Lake), First Bend of Yellow River, etc.

Tourists can get to Ruoergai by bus from Chengdu Chadianzi Bus Station or rent a car to Ruoergai County. And you can also go to Ruoergai by flight from Chengdu Shuangliu International Airport to Jiuzhai Huanglong Airport then take the shuttle bus to Songpan County and change bus to Ruoergai. Or you can fly from Chengdu to Aba Hongyuan Airport then take the shuttle bus to Hongyuan County and rent a car to Ruoergai.
UpdateCancel
Ruoergai Prairie Travel Guide
Get ready for the fabulous trip to Jiuzhaigou,Huanglong,Langmusi,Ruoergai,Huahu altogether? 3rdpoletour.com have summed up the comprehensive travel tips for your Ruoergai Prairie and surrounding tours.
Eager to Go? Still have some questions or already got your own travel ideas? Please feel free to contact us. Our experienced travel experts on the Third Pole will help you arrange your trip according to your requirements.
Let's Plan Your Trip