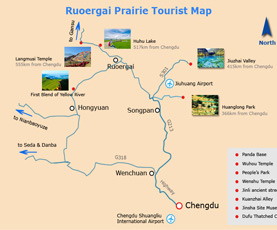 Ruoergai Prairie, also named Zoige Grassland, is located in the northwest of Sichuan Province, and covers four counties: Ruoergai, Aba, Hongyuan and Rangtang. Many small blue lakes scattered in green grassland with high and wide visibility. It is known as one of "Top 10 Most Beautiful Wetlands" in China.
Highlights of Ruoergai Prairie
1Ruoergai Prairie: As one of the famous Sichuan tourist attractions, Ruoergai Prairie looks like a magnificent brilliant emerald. Galloping a horse across the vast land, you will feel that you are the master of this amazing land. The best time to view the wild flowers on the grassland is between June and July.
2Huahu Lake or Flower Lake: The absolute blue water conveys an purity and simpleness, which just is like the words someone said that Flower Lake tastes like the first love , but lets travelers craze.
3First Bend of Yellow River: The Bend possesses its unique beauty, of which the most mirable view happens at sunset when the gentle light glanced off the silently flowiing river.
Most Popular Ruoergai Prairie Tour Packages
Your journey will be fully tailored to your schedule, interests and budget.
Start planning your tailor-made adventure to the Third Pole by contacting one of our certified specialists.