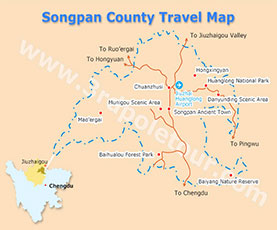 Songpan, on the way from Chengdu to Jiuzhaigou, is a destination that rich in both cultural and natural beauty. When you plan a day in Songpan before or after your Jiuzhaigou tour, you may want to know what the recommended things to do in Songpan, or whether it is worth spending a day in this old town.
In fact, Songpan offers more than you expected. To visit Songpan Ancient Town and enjoy a leisure walk on the ancient city wall is the most class trip in Songpan. Furthermore, you can experience more outdoor activities there. The horseback riding tour around Songpan is a good way for you to explore the less-traveled urban area around Songpan. A hiking and camping tour to Qizanggou, or doing a Kora around the holy Mountain Huashiyan with the local pilgrims will be a unique experience. Here we offer you the most recommended things to do in Songpan. Hoping this will help you make the most use of your time in Songpan.
Highlights of Songpan
1Huanglong National Park: Together with Jiuzhaigou Valley, Huanglong Scenic and Historic Interest Area has been listed as UNESCO World Heritage Site since 1992. Located about 57km away from Songpan and 120km away from Jiuzhaigou Valley National Park, Huanglong National Park is famous for its colorful ponds, spectacular waterfalls and gorgeous valleys.
2Songpan Ancient Town: The history of Songpan Ancient Town can date back to Qin Dynasty. As one of the most important town on ancient Tea-Horse trade to Tibet, Songpan has seen the great changes over past centuries. It is just like a melting pot of several kings of culture, such as the Han culture and the Tibetan Culture.
3Songpan Horseback Riding: Songpan is one of the popular destinations for horseback riding at the east edge of Tibetan Plataea in Sichuan Province. You will ride a horse through the villages, the pretty forest with a local guide. It is a pleasant trip with discoveries.
4Songpan Trekking and Camping: Qizanggou Valley is quite an off-the-beaten-path destination for outdoor activities. At the back mountain of the famous Jiuzhaigou Valley and Huanglong National Park, the Qizanggou Valley provides a different peaceful and quiet atmosphere that less influenced by ordinary tourists. You will follow the local path through the forest, crossing the grassland and reaching to the holy lakes hidden in the mountain deep.
Most Popular Songpan Tour Packages
Your journey will be fully tailored to your schedule, interests and budget.
Songpan Tour Travel Guide