North of Myanmar and Laos and south of China, Xishuangbannan region is well known as Banna and has become China's mini-Thailand, attracting tourists looking for sunshine, water-splashing festival and epic jungle treks. The Mekong River, named as Lancang River in China, flows through the whole Xishuangbanna.
Passing through the tropical rainforest, you will come to Banna Wild Elephant Valley which is the only region in China the wild elephants are living. Here, you will appreciate the wild elephants herding and moving, and watch the trained elephants performing dancing, greeting and bathing. If Banna is described as evergreen boundless forest, Tropical Botanical Garden would be the soul of its. Here, you will see the most typical rare plants of tropical rainforest. Held in mid-April, Water-splashing Festival washes away the dirt, sorrow and demons of the old year and brings in the happiness of the new. Although the festival lasts three days from 13 to 15 April and dates in the surrounding villages vary, International tourists should pay special attention and prepare to be drenched all day.
Most Popular Xishuangbanna Tour Packages
3rdpoletour.com help you carry out Yunnan Xishuangbanna tour to get closer contact with wild elephants, explore the rare fauna and flora in the tropical rainforest, experience the hilarious Water-Splashing Festival with Dai People and taste the world-known Pu'er Tea. Besides, we can also add other popular destinations like Kunming, Dali, Lijiang, Shangri-La to your Xishuangbanna travel.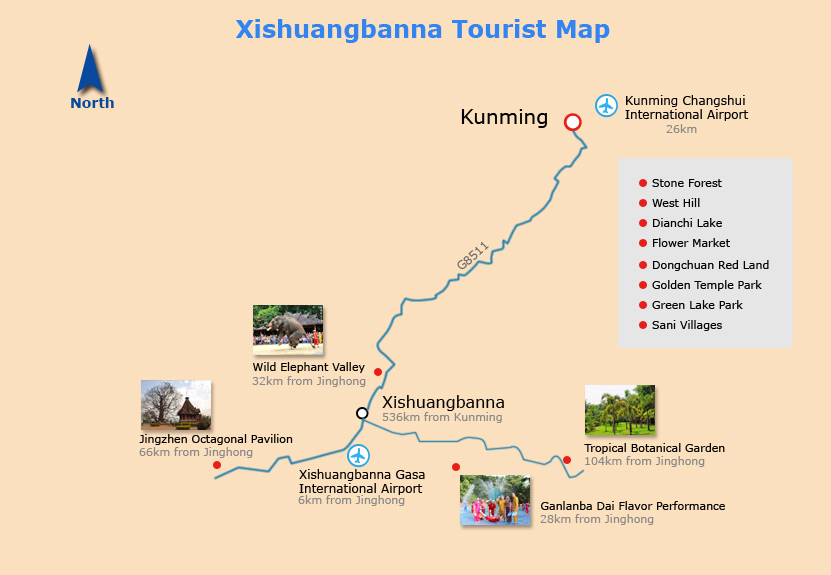 Quick Facts of Xishuangbanna
All Year Round (especially November to next April)

Banna Wild Elephant Valley, Tropical Botanical Garden, Water-splashing Festival, etc.

Tourists can get to Xishuagnbanna by flight from Kunming, Tianjin, Shanghai, Chengdu, Chongqing, Lijiang, Dali, Beijing, Guangzhou, Xi'an, Hangzhou, Zhengzhou, Wuhan, Tengchong, Shangri-La to Gasa Airport or take coach to Xishuangbanna from most of the cities of Yunnan Province. You can also access Xishuangbanna along Lancang River-Mekong River waterway from South Asia.
Eager to Go? Still have some questions or already got your own travel ideas? Please feel free to contact us. Our experienced travel experts on the Third Pole will help you arrange your trip according to your requirements.
Let's Plan Your Trip