Mount Siguniang Tour
Mount Siguniangshan, also named Four Girls Mountain, is an AAAA National Park, which is well known for the adjacent mountains peaks: Dafeng (5,025m), Erfeng (5,276m), Sanfeng (5,355m) and Yaomeifeng (6,250m), and three main valleys: Shuangqiao Valley, Changping Valley and Haizi Valley. It is one of perfect destinations in western Sichuan to plan a climbing tour to Dafeng and Erfeng or a hiking tour from Changpinggou to Bipenggou.
Basic Fact:
Altitude: Dafeng (5,025m), Erfeng (5,276m), Sanfeng (5,355m) and Yaomeifeng (6,250m)
Best Time to Go: All Year Round (especially June to August and October to November)
What to See: Mt. Siguniangshan Climbing, Changping Valley hiking to Bipeng Valley, Three Main Valleys, etc.
How to Go: Tourists can get to Siguniangshan Scenic Area by the regular long-distance bus from Chengdu Chadianzi Bus Station or rent a private car/van in Chengdu or Jiuzhaigou to Siguniangshan.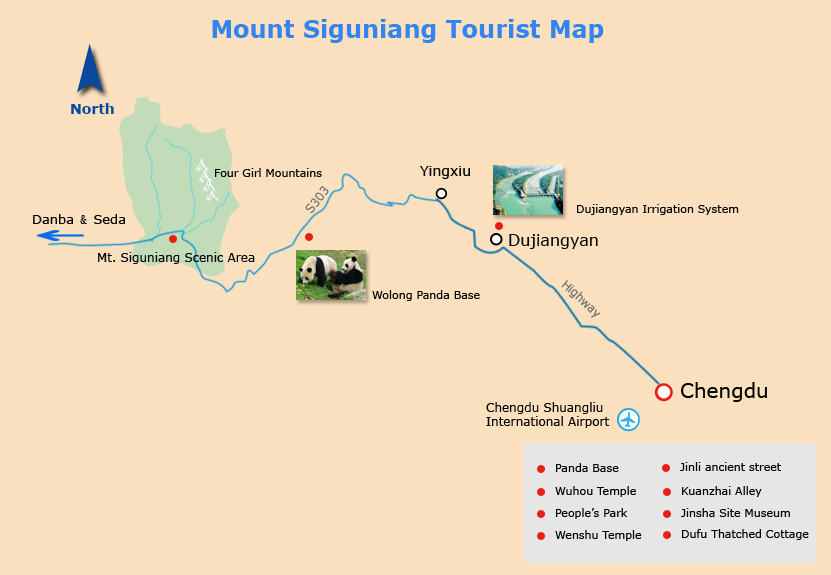 Mount Siguniang Tourist Map (click to enlarge map)
Most Popular Mount Siguniang Tour Packages
3rdpoletour.com has plotted out the most classic climbing routes through Mt. Siguniangshan range for mountaineering lovers and adventurers. For ordinary tourists, you can also enjoy the stunning scenery of Siguniangshan area and experience hospitality and cultures of local Tibetans on Changping Valley to Bipeng Valley hiking tour.
More Frequently Asked Questions on Mount Siguniang Tour
Q1. Which one shall I choose Changping Valley, Shuangqiao Valley, and Haizi Valley?
Changping Valley - the most beautiful valley in the Mt. Siguniang area
16 kilometers far away from Mt. Siguniangshan, Changping Valley is famous for snow mountains, pastures, meadows, and virgin forests. As the paradise for outdoor sports enthusiasts, it's an important base camp for climbing Siguniang peaks and an ideal place for rock climbing and ice climbing. And you can also enjoy the trek from Changping Valley to Bipeng Valley in Li County.
Shuangqiao Valley - the best tourist experience with sightseeing cars
7 kilometers away from Rilong Town, Shuangqiao Valley has a total length of 34.8 kilometers and features in the pastures, brooklets, plank roads, and forests. The most distinctive site is the Nianyuba plank road. From Shuangqiao Valley, you can also see dozens of snow mountains with an altitude of over 4000 meters. Sitting west to Mt. Siguniang, Shuangqiao Valley give you a great chance to get a close-up shot of Shiguniangshan. It takes only half a day to travel through the whole valley by sightseeing car.
Haizi Valley - the must-stop for Dafeng climb and more primitive scenery
With a total length of 19.2 kilometers, Haizi Valley is named for its dozens of scattering lakes. Completely different from that of Shuangqiao Valley and Changping Valley, Haizi Valley is dominated by alpine meadows. Sitting east to Mount Siguniang, it is a good place to appreciate Four Girls Mountian as well as a must-stop for mountaineering enthusiasts to climb Daguniangshan (Dafeng).
The first half of Haizi Valley are meadows, canyons, rivers and waterfalls, while at the second half, you can see alpine lakes. Since it's too long and some of the lakes are over 4,200m, Haizi Valley is less-crowed with the scenery more primitive and pure.
Q2. What to Pack for Mount Siguniang Trek
Clothing
Windproof and waterproof outdoor jacket, warm fleece jacket, underwear, removable quick-drying pants, down pants, hiking shoes, sports sandals, sweat socks, sunhats, gloves, ultraviolet-proof glasses, headscarves, other personal clothing (disposable underwear, undershirt T-shirt, toothpaste, toothbrush, towel, sunscreen, moisturizer, lipstick, hand cream).
Trekking equipment
Vacuum cup, headlight, trekking pole, knee-pads, large water-proof backpack (consigned by horse or yak), go-bag (carrying road meals and other personal belongings).
Camping equipment
Sleeping bag, tent, tent mat, moisture-proof pad, burner, pot.
Q3. How to Avoid Altitude Sickness in Mount Siguniang Tour
1. Drink a small amount of water (one sip each time, the number of times increases) to prevent thrombosis , 4000 ml per day is appropriate.
2. Quit smoking.
3. Try to avoid bare skin, wear sunscreen on the exposed skin and UV-resistant sunhat.
4. Avoid violent activities and emotional excitement.
5. Advise not to take bath for avoiding hypoxia and catching cold.
6. Maintain the dietary principles of high sugar, high plant protein and low fat.
Mount Siguniangshan Travel Guide
Thrilling to climb up the first peak and the second peak of Mt. Siguniang? It does require physical demand and necessary equipment for high altitude camping and hiking. Check the most authoritative travel guide for your Siguniangshan climb and trek.
Eager to Go? Still have some questions or already got your own travel ideas? Please feel free to contact us. Our experienced travel experts on the Third Pole will help you arrange your trip according to your requirements.