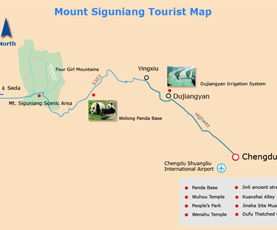 Mount Siguniangshan, also named Four Girls Mountain, is an AAAA National Park, which is well known for the adjacent mountains peaks: Dafeng (5025m), Erfeng (5276m), Sanfeng (5355m) and Yaomeifeng (6250m); and three main valleys: Shuangqiaogou, Changpinggou and Haizigou. It is one of perfect destinations in western Sichuan to plan a climbing tour to Dafeng and Erfeng or a hiking tour from Changpinggou to Bipenggou.
Highlights of Mount Siguniang
1Mt. Siguniangshan Climbing: In the scenic area, there are tens of mountains at the altitude of over 4000m. No doubt, it is the favorite area for the mountaineering lovers. The popular climbing peaks are Dafeng (5025m) and Erfeng (5276m).
2Changping Valley hiking to Bipeng Valley: It is the classic trek through the scenic Mt. Siguniangshan range. Both require physical demand and necessary equipments of camping and hiking.
3Three Main Valleys: For a average travelers, the valleys are also the good choice to explore the natural beauties of western Sichuan. Shuangqiao Valley is accessible by scenic sightseeing bus. In Changping Valley, ones can choose hiking and horse riding. Haizi Valley is famous for the tens of alpine lakes and the only road to climb Dafeng.
Most Popular Mount Siguniang Tour Packages
Your journey will be fully tailored to your schedule, interests and budget.
Tailor-make your Mount Siguniang Tour
Too many choices? Send us a quick inquiry so that we can offer you an itinerary with price for your information. This short inquiry is FREE and NOT a commitment for booking.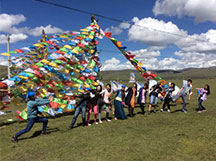 Start planning your tailor-made adventure to the Third Pole by contacting one of our certified specialists.