Listed as a stunning UNESCO World Heritage Site in 1992, Jiuzhaigou Valley is one of Sichuan's star attractions, located in the Aba autonomous prefecture, about 430km away from Chengdu. Every year, more than three million tourists from all over the world visit the Fairyland for its colorful lakes, spectacular waterfalls and pristine forests.
At 3rdpoletour.com, we take pride in the fact that we offer the largest collection of custom designed Jiuzhaigou tours for all the budget and interests, and your request will be handled with care and with the utmost attention to detail.
Most Popular Jiuzhaigou Small Group Tour Packages
Here we have handpicked the top two Chengdu Jiuzhaigou tour packages for group tourists, covering the stunning Jiuzhaigou and fabulous Huanglong National Park with highlighted trip to Chengdu Panda Base, as well as the nearby Leshan Giant Bhudda and Mount Emei.
Choose your favorite Chengdu Jiuzhaigou group tour for the latest tour schedule in 2020 and 2021. All of our group tours to Jiuzhaigou are non-shopping with fixed departure dates at the best local price.
Customized Jiuzhaigou Tour Packages
We also provide kinds of Jiuzhaigou tours with extension to the nearby attractions, such as the Songpan Ancient Town, Ruoergai Grand Prairie and Langmusi. You will not only explore the natural beauty of this land, but also experience the local culture of northern Sichuan. Just pick up your favorite travel route or tailor it according to your own interests and needs.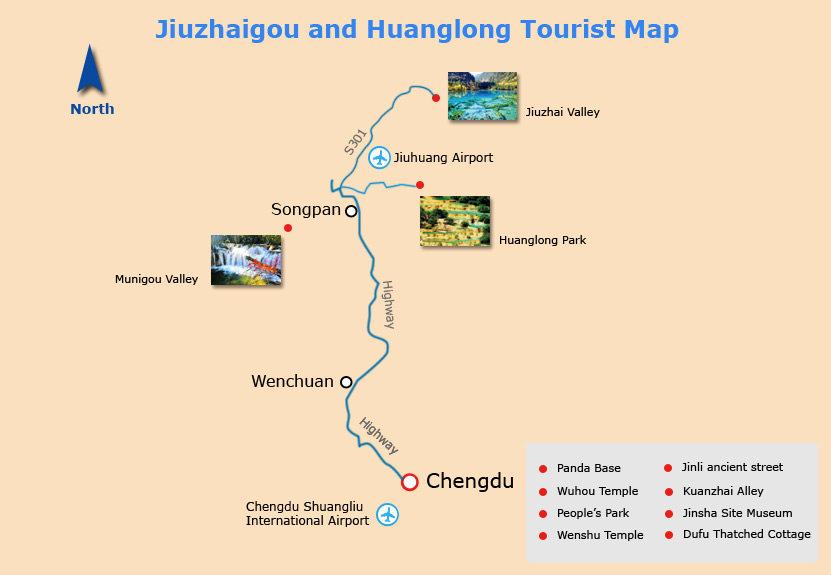 Quick Facts of Jiuzhaigou
All Year Round (especially Autumn for the best Foligage Color)

Five-Color Pond, Five-Flower Lake, Nuo Ri Lang Waterfall, Chang Hai, Tibetan Mystery Show, etc.

Tourists can get to Jiuzhaigou-Huanglong Airport by flight from Chengdu, Chongqing, Xian, Beijing, Guangzhou, Shanghai, Kunming, Hangzhou, Mianyang, Zhangjiajie, Zhengzhou, and then take shuttle bus to Jiuzhaigou Scenic Sport. Or you can also take a long-distance bus from Chengdu Tourists Transportation and Service Center to Jiuzhaigou Valley.
Jiuzhaigou Travel Guide
Need more professional help for planning your upcoming Jiuzhaigou tour? No worries! 3rdpoletour.com offers you the lateset travel guide on Jiuzhaigou Honglong trip and trek.
Eager to Go? Still have some questions or already got your own travel ideas? Please feel free to contact us. Our experienced travel experts on the Third Pole will help you arrange your trip according to your requirements.
Let's Plan Your Trip