Jiuzhaigou Tour
Listed as UNESCO World Heritage Sites for more than 30 years, the Jiuzhaigou Valley and Huanglong Park are two of the most outstanding areas of natural beauty in the world. Located around 430 kilometers to the north of Chengdu in the Aba Autonomous Prefecture of Southwest China's Sichuan Province, these two amazing sites attract millions of tourists every year to their fairyland landscapes and stunning scenery.
The fairy-tale waterfalls, stunning colorful lakes, pristine pine forests, and amazing landscapes offer a wide range of things to do for the average tourists to the area, from hiking and photography to the awesome ice-climbing in the depths of winter. And we can offer you the ideal tour service to make your trip the dream of a lifetime, with professional guides, excellent transport, and the utmost attention to details.
Basic Fact:
Jiuzhaigou altitude: 2,000 to 4,500 meters
Best time to visit Jiuzhaigou: All Year Round (especially Autumn for the best foliage color)
What to see in Jiuzhaigou: Five-Color Pond, Five-Flower Lake, Nuo Ri Lang Waterfall, Chang Hai, Tibetan Mystery Show, etc.
How to get to Jiuzhaigou: Tourists can get to Jiuzhaigou by bus from Chengdu or by flight from Chengdu, Chongqing, Xian, Beijing.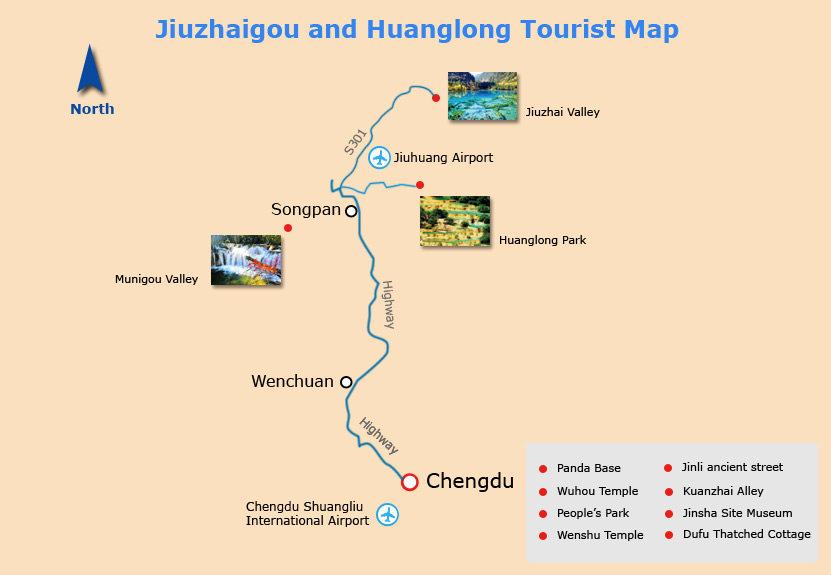 Jiuzhaigou Huanglong Tourist Map (click to enlarge map)
Jiuzhaigou Group Tour
All of our group tours to Jiuzhaigou are non-shopping with fixed departure dates at the best local price. Choose your favorite Jiuzhaigou group tour for the latest tour schedule in 2020 and 2021.
Chengdu and Jiuzhaigou Tour
We also provide kinds of Chengdu Jiuzhaigou tours with extension to the nearby attractions, such as the Songpan Ancient Town, Ruoergai Grand Prairie, Langmusi, Leshan Giant Bhudda and Mount Emei. Just pick up your favorite travel route or tailor it according to your own interests and needs.
China Jiuzhaigou Tour
Here we have handpicked the top eight China Jiuzhaigou tour packages for tourists from Beijing, Shanghai, Guangzhou, Hong Kong, Xian, Chongqing, etc. Not only can you explore the vast land of China, but also experience the exotic culture of northern Sichuan and the natural beauty of Zhangjiajie.
Find the Best Way to Jiuzhaigou from Your Country
Direct flight to Jiuzhaigou are not available? No worries! Here our Jiuzhaigou travel guru will help you to find the best way to Jiuzhaigou from your starting point and work out the detailed travel route, offering you a hassel-free Jiuzhaigou travel experience.
More Frequent Asked Questions on Jiuzhaigou Tour
Q1. Is it safe to visit Jiuzhaigou after the earthquake?
While the earthquake that hit the Jiuzhaigou area in 2017 caused a lot of devastation and damage, much of which has taken a long time to put right, it is definitely safe now to travel to the valley and the surrounding areas. The area of Jiuzhaigou and the associated valleys and parks reopened to the public on September 27, 2019, and have been accepting up to 5,000 visitors a day ever since. After more than 2 years of rebuilding work, around 85% of the park is now open again, and perfectly safe for tourists to visit.
Q2. Can I travel to Jiuzhaigou alone?
Yes, it is possible to travel to Jiuzhaigou and the surrounding areas alone, and there are solo travelers that make this journey alone. The park area trails are mostly made from planks of wood, and make it easier for solo travelers to find their way around the park. The trails are also well signposted, so you should have no trouble finding your way from one place to the next. The shuttle buses have a hop-on, hop-off policy as well, so you can jump on a bus from any part of the park to get to any other part relatively easily. The only thing to remember is that you cannot stay overnight inside the park area.
Q3. When is the best time to visit Jiuzhaigou?
The park is generally open throughout the year, and can be visited at any time, so you are not restricted to a certain time of year for travel. However, the weather normally dictates the best time to visit such an awesome beauty spot, and in Jiuzhaigou, the best time to visit is from September to October, when the weather is mild and calm, and the sunshine is bright and pleasant. This fairyland really lives up to its reputation in autumn, with lots of lush green foliage sprinkled with the autumn colors of the red, gold, and brown leaves of the forests that stretch across the area.
Temperatures in autumn generally range from around 10°C - 14°C at night to as high as 18°C - 23°C during the day, making it a comfortable and warm time of year to travel. By September, the rains of the season have normally passed by, and you can only expect the odd light shower, with only 2-5 millimeters of rain throughout the whole of autumn. And with lighter winds than at any other time of the year, the autumn is the ideal time to visit. See more details about best time to visit Jiuzhaigou
Q4. Where are the best places for photography in Jiuzhaigou?
Since Jiuzhaigou is already listed as one of the top ten places for stunning nature photography in China, then the top places within the area have to be the 300-meter wide Nuorilang Waterfall, the multi-colored Five Colors Pond, the Pearl Shoal Waterfall, and the Five Flowers Lake, among others. While these are notably some of the most popular spots for photography within Jiuzhaigou, the whole area is one amazing natural area where you can find the best shots in the world. See more details about Jiuzhaigou photography tour
Q5. How can I get to Jiuzhaigou from Chengdu?
Getting to Jiuzhaigou from Chengdu is relatively easy, and you have several options for travel. You can get a 40-minute flight to Jiuhuang Airport in Aba Prefecture from Chengdu, then get the bus for two hours to the valley area. Flights generally cost around 1,550 Yuan, while the bus costs from around 80 Yuan each. Alternatively, you can take the long-distance bus from Chengdu, which takes around 8-10 hours. There are two routes to choose from but both cost from around 140-160 Yuan per person for the entire trip. Or you can rent a car and driver to drive you there and drive you around, though this is normally expensive for most travelers unless you are in a group. See more details about Chengdu to Jiuzhaigou
Q6. How can I travel between Jiuzhaigou and Huanglong?
The Huanglong National Park is only around 144 kilometers from Jiuzhaigou, and it can take as little as two to three hours to get there by car. Most travelers choose to explore both locations together, as they complement each other with their intense natural beauty. The bus runs from Jiuzhaigou Goukou Bus Station to Huanglong every morning at 7:30am and 7:40am, and costs around 45 Yuan for the 2-3 hour trip. The bus returns to Jiuzhaigou from Huanglong at 3:00pm from Huanglong Shanzhuang. The best option for exploring both destinations is to book a combined tour. See more details about Jiuzhaigou to Huanglong
Q7. Can I stay overnight in Jiuzhaigou?
Jiuzhaigou is one of the most beautiful places in China, but you are not going to be able to stay overnight in the park. All visitors to the park must vacate the area by 7:00pm from May to the middle of November and by 6:00pm from November to April. However, there are plenty of places to stay nearby, so you can get back into the park the next day easily with minimal travel. You have the option of staying in luxury hotels such as the Sheraton and the Intercontinental. Or you can find some of the more relaxed guesthouses and hotels close to the entrance of the park, such as the Angelie Hotel or the Jiuzhaigou Grand Hotel. See more details about Jiuzhaigou accommodation and hotels
Q8. Where and what to eat in Jiuzhaigou?
When you enter the park to visit Jiuzhaigou, there is only one restaurant to eat at inside the valley, which is located at the Nuorilang Tourism Service center. Located around 300 meters from the Nuorilang Waterfalls, the restaurant has buffet meals, set meals, snacks, and a selection of fast foods. However, only Chinese dishes are offered in the restaurant, and prices are relatively expensive, with buffet options ranging from 60 Yuan to 200 Yuan per person. There are several good restaurants in Jiuzhaigou Town, outside the park, where you can get a good and less-expensive dinner after your day in the valleys. See more details about dinning in Jiuzhaigou
Q9. How many days do I need to tour Jiuzhaigou?
Some people recommend at least a day to wander around the park, and in general, this is enough to visit all of the most essential areas of the park. However, covering an area of over 600 square kilometers and set across three major valleys, two days are much better for getting the best that this amazing destination has to offer. Having a second day to explore means you can get around to some of the most beautiful locations inside the valleys, and explore more of this area of outstanding natural beauty. See more details about days in Jiuzhaigou
Q10. How much does a Jiuzhaigou tour cost?
If you are planning to book a tour with a travel agency, you can pay upwards of 200-250 US Dollars per person for a two-day tour of the park. However, if you are planning on spending your time there without tour guides, you can do so for a little less. Entrance in the peak season costs 220 Yuan per day for adults, and 110 Yuan for seniors from 60-69 years and students or the handicapped. 70+ adults get in free. The bus costs 90 Yuan per day in the peak season. In the low season, adult tickets are 80 Yuan, seniors and students are just 40 Yuan, and the bus costs just 80 Yuan. However, if you are planning a visit of two consecutive days in the low season, you can get the second day's ticket for just 20 Yuan if you buy both days together.
Q11. Will I suffer from altitude sickness in Jiuzhaigou Huanglong tour?
The altitude in the Jiuzhaigou National Park ranges from as low as 1,990 meters to as high as 4,764 meters, so there is very little chance of you even feeling any minor effects of altitude sickness, even at the highest elevations. Added to the fact that you will not reach the highest altitude, which is at the peak of Ga Er Na Feng Mountain, even riding from the entrance to the higher areas is unlikely to have any more than minor symptoms, such as headache and a little dizziness. However, altitude sickness affects people in different ways, so it is a good idea to read up on the symptoms, to make sure you do not feel more than mild AMS. See more details about Jiuzhaigou and Huanglong altitude
Q12. What are local specialties in Jiuzhaigou?
The area around Jiuzhaigou is renowned for a number of plant species that are found in only a few places around the world, as well as some ancient Chinese medicinal remedies that can only be found in certain specific locations. The more famous of the rare herbs found inside the area include Angelica, Aweto, Saffron, etc. You can also find the famous Chinese medicine, Vermiculate Thamnolia Thallus, a lichen that is also known as "snow tea". Jiuzhaigou is also one of the rare places that hosts the Cordyceps, or Caterpillar Fungus, a highly regarded Chinese medicine that is found only in a few places in China.
Q13. Are there any taboos in Jiuzhaigou travel?
Jiuzhaigou has a general rule of leaving nothing behind but footprints. This means you should pick up all trash, and not deliberately damage plants or pick the flowers. Respect for the natural environment is important in such a beautiful place, to ensure it remains just as beautiful for later generations.
Respect the customs and culture of the Tibetan people that live in the villages inside the valleys. Always remember to be polite.
Ask before taking photos of the people or the villages and their livestock. Buddhists believe that photos capture part of the soul.
Follow the general rules for altitude sickness, as you may experience some in the higher altitude areas of the park. Bring high-energy snacks to help you get through, and plenty of water to rehydrate.
Bring hot water with you in a flask if you want tea or coffee along the way, as you cannot get any inside the park.
Jiuzhaigou Travel Guide
Need more professional help for planning your upcoming Jiuzhaigou tour? No worries! 3rdpoletour.com offers you the lateset travel guide on Jiuzhaigou Honglong trip and trek.
Eager to Go? Still have some questions or already got your own travel ideas? Please feel free to contact us. Our experienced travel experts on the Third Pole will help you arrange your trip according to your requirements.