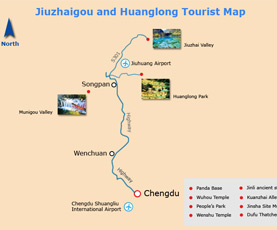 JIUZHAIGOU TOUR
Listed as a stunning UNESCO World Heritage Site in 1992, Jiuzhaigou Valley is one of Sichuan's star attractions, located in the Aba autonomous prefecture, about 430km away from Chengdu. Every year, more than three million tourists from all over the world visit the Fairyland for its colorful lakes, spectacular waterfalls and pristine forests.
At 3rdpoletour.com, we take pride in the fact that we offer the largest collection of custom designed Jiuzhaigou tours for all the budget and interests, and your request will be handled with care and with the utmost attention to detail. The trips either listed below or tailored by our expert trip designers are guaranteed the LOWEST price.
Notice: Due to the earthquake in Jiuzhaigou county on August 8, 2017, Jiuzhaigou Scenic Area is temporarily closed. When it is reopened, we will inform you at the first time.
Highlights of Jiuzhaigou
1Five-Color Pond (Wucai Chi,五彩池): recoganized as the top highlight of Jiuzhaigou Valley, Five-Color Pond has its charm in all four seasons. If you are photographer, you'd better to take the photos at the noon when the pond sparkles in the sunshine.
2Five-Flower Lake (Wuhua Hai,五花海): hailed as the essence of Jiuzhaigou park, Wuhua Hai is relected by the colorful trees, blue skies, white cloud and gorgeous algae. The best spot to shoot a panorama of the lake is the "Tiger Stone".
3Nuo Ri Lang Waterfall (诺日朗瀑布): as the widest waterfall of China, it is the shooting spot of many TV shows, including the "Journey to the West".
4Chang Hai (长海): as the longest and highest lake, Chang Hai is the mother of all other lakes of Jiuzhaigou.
5The Tibetan Mystery Show (Zang Mi; 藏迷): you should never miss out the Tibetan Mystery Show for your Jiuzhaigou trip. The show was made by Liping Yang, a guru ethnic minority dancer from Yunnan province and Rong Zhong Er Ya, a master of Tibetan Singer from Jiuzhaigou County. It tells a story that a Tibetan old woman had seen, heard and expereinced when she made her pilgrimage from Jiuzhaigou to the Holy City, Lhasa, showing Tibetan's various features in different regions. You will be touched by the Tibetan songs, dances, instrument, customs, culture, religion and lifestyle, and moved by the old Tibetan woman's piety.
Most Popular Jiuzhaigou Tour Packages
Your journey will be fully tailored to your schedule, interests and budget.
Jiuzhaigou & Huanglong Travel Guide
Start planning your tailor-made adventure to the Third Pole by contacting one of our certified specialists.