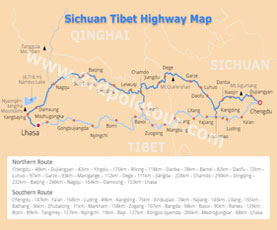 Though it is a challenging journey to drive from Chengdu to Lhasa, it is worth taking the Sichuan Tibet overland tour for the stunning natural beauty en route. From Chengdu Plain to Tibet Plateau, crossing the Hengduan Mountain Ranges, you will appreciate the unique landscapes in western Sichuan and eastern Tibet.
Highlights of Sichuan Tibet Overland
1Sichuan Tibet Highway Southern Route: Different from the northern route, the southern route of Sichuan Tibet Highway is popular for its stunning natural beauty. From Chengdu to Lhasa, you will drive through Chengdu plains, Sichuan basin, and Tibet plateau to enjoy the amazing landscapes en route. When entering Tibet, you will drive through the eastern Tibet to Lhasa, which owns the unique scenery of forests, rivers and mountains that you cannot see the same one in other places of Tibet.
2Sichuan Tibet Highway Northern Route: The northern route of Sichuan Tibet Highway (G317) is famous for the rich cultural attractions en route. It crosses many pastoral areas, where you can not only enjoy the landscape of grassland with snow mountains at the background, but also experience the unique ethnic culture of local herdsmen. There are more than fifty ethnic groups living along the Sichuan Tibet highway northern route, such as Han, Qiang, Hui, Manchu, Mongol, Jiarong Tibetan, Muya Tibetan, Kangba Tibet, Wei Tibet, etc.
3Eastern Tibet: Eastern Tibet, west to Sichuan province, offers the face that you never knew Tibet had. Since other areas of Tibet are most desert-like landscape, the eastern Tibet offers dripping-wet forests, raging rivers and towering gorges. When you take the overland tour from Chengdu to Lhasa via the Sichuan Tibet highway southern route, you can enjoy the amazing landscapes, such as Lulang Forest, Ranwu Lake, Draksum-tso Lake, etc.
Most Popular Sichuan Tibet Overland Tour Packages
Your journey will be fully tailored to your schedule, interests and budget.
Tailor-make your Sichuan Tibet Overland Tour
Too many choices? Send us a quick inquiry so that we can offer you an itinerary with price for your information. This short inquiry is FREE and NOT a commitment for booking.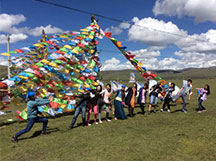 Start planning your tailor-made adventure to the Third Pole by contacting one of our certified specialists.