With the flowers blooming and evergreen vegetation thriving all year round, Kunming is highly reputed as "Flower City" and "Spring City", which is an ideal place for leisure, tourism, holiday and residence. Endowed with gorgeous natural scenery, splendid historical sites and interesting ethnic customs, Kunming is always one of the top ten tourism cities for domestic and international tourists.
The biggest highlight of our Kunming city tour is a full day trip to Stone Forest (also known as Shilin). The natural wonderlands is actually a massive collection of grey limestone pillars that split and eroded by wind and rainwater for 270 million years. Moreover, you will visit the Western Hills Dragon Gate Grotto, where you can enjoy the cooling breezes and get a fantastic view of Dianchi Lake and the surrounding. For those who want to get close to the local's life, Green Lake Park is an ideal place to do people-watch, practice Taichi or just hang with the locals and stroll. We also arrange a short trip to the nearby Dongchuan Red Land, which is a new rising tourist destinations loved by photographers, backpackers and hikers.
Most Popular Kunming Tour Packages
3rdpoletour.com help you arrange the short visit to Kunming city with extra journey to the popular nearby attractions in Yunnan, such as Dali, Lijiang, Shangri-La, Lugu Lake and so on. All itineraries below are private and flexible, customizable to your travel style and tastes.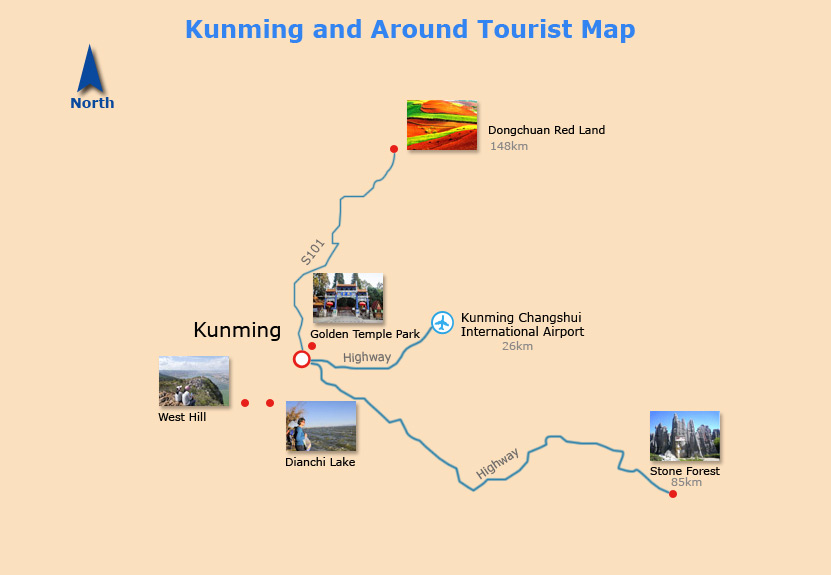 Quick Facts of Kunming
All Year Round (especially March to October)

Stone Forest, Western Hills Dragon Gate Grotto, Green Lake Park, Dongchuan Red Land, etc.

Tourists can get to Kunming by air, train and road. The fastest way is by flight to Kunming Changshui Airport from domestic cities like Beijing, Shanghai, Shenzhen, Chengdu, Chongqing, Xiamen, Nanjing, Xi'an, Shijiazhuang, Zhengzhou, Guiyang or international cities like Vientiane, Hanoi, and Bangkok. And you can also take train or travel along the expressways to Kunming from other major cities.
Kunming Travel Guide
Attracted by Yunnan Kunming cultural relics and scenic spots? 3rdpoletour.com devote ourselves to make your dream come true. Check the details of Kunming travel guide and tips.
Eager to Go? Still have some questions or already got your own travel ideas? Please feel free to contact us. Our experienced travel experts on the Third Pole will help you arrange your trip according to your requirements.
Let's Plan Your Trip