"Travel with the best team for the best-organized tour experience." Such unfailing commitment is the driving force behind all the staff of 3rdpoletour to our clients. Ever since the founding of our travel agency, the Third Pole Tour stays committed to bringing you the in-depth tours and thrilling outdoor adventures on Qinghai-Tibetan Plateau and its surroundings.
Backed up by the most inspirational group leaders, responsible tour guides and versatile travel experts, we remain one of the handful travel agencies offering English-speaking guide service in Tibet, Sichuan and beyond. Every detail of our service is specially designed to enhance your tour experience, allowing you to fully embrace the authentic tour experiences.
Whatever your interest is: in-depth cultural tour, horse-backing ride or mountain biking, self-driving across China, and mountain trekking or even entry-level mountaineering, etc. Our professional team, with a full set of pro gears and support, will ensure you a safe travel and exhilarating tour experience.
Trip Designer
Destination Experts

All the organized tours, both private and group, are designed by our experienced travel experts in a particular region. They combine their years of guide experience with the personal survey of the tourist destination to make sure you can get the most authentic travel experience.

> See Our Tours by Destination

Adventure Trip Designers

For thrill seekers or outdoor enthusiasts, our experts in mountain biking, motorcycling, and trekking, mountaineering, self-driving, horse-back riding, etc. have also handpicked a number of adventurous and inspiring experiences for you. With a whole professional team to guarantee your safety, all you need to do is enjoy the waves of adrenaline rush.
Travel Consultants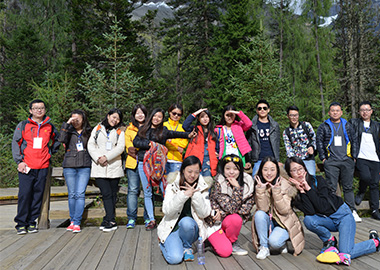 To facilitate your journey, our hospitable and helpful will give your professional consultancy for free and work together with you to individualize your tour. They will help you secure the necessary travel documents and book the flight, Tibet train and hotel, etc. During your tour, they also closely monitor your journey and are ready to offer prompt help.
Contact Our Travel Expert
Local Support
Local Travel Guide

All the local travel guides are well-trained with at least 5 years of guide experience. Fluent in English, they are well versed in Tibetan Buddhism, and Chinese culture and history and are familiar with every corner of Tibet, Sichuan, Xining, Yunnan and beyond. Passionate about travel and extremely humorous and considerate, they are the best guarantee of your travel safety, the most decisive leaders you long for.

Senior Local Drivers

3rdpoletour never hires unknown drivers. All the local drivers we have are at least have over 6 years of driving experience in a particular region. They know very well with the treacherous mountain roads and will kindly pull over the tour vehicle at the right places for you to take photos. Triple checking the tour vehicle before hitting the road has been their daily routine.

Tour Operations Staff

Our tour operational staff is responsible for coordinating the works between your tour guide, travel consultants. With a massive networking inside the tourism industry across China, they would work tirelessly to ensure you a seamless travel.