Flowing east to west along the Hexi Corridor - the gap through wich all manner of goods once streamed from China to Central Asia, the slender province of Gansu offers an entrancingly rich cultural and geographic diversity. Historians immerse themselves in Silk Road lore, art aficionados swoon before the wealth of Buddhist paintings and sculptures, while adventurers hike to glaciers, ride camels through the desert and tread along paths well worn by Tibetan nomads...
Speak to someone who's been there
Tell us your travel plan and ideas and one of our travel specialists will tailor a trip just for you.
Most Popular Gansu Tour
Three Pole Tour has selected the must-see destinations in Gansu and designed a collection of special packages
Tailor-make your Gansu Tour
Too many choices? Send us a quick inquiry so that we can offer you an itinerary with price for your information. This short inquiry is FREE and NOT a commitment for booking.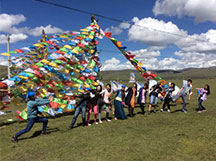 Start planning your tailor-made adventure to the Third Pole by contacting one of our certified specialists.