Urumqi is a fast-growing Central Asian hub, which sprawls 20km across a fertile plain in the shadow of Tian Shan mountains. High-rise apartments and tower blocks form a modern skyline that soon dash any thoughts of spotting wandering camels and ancient caravanserais. Our Xinjiang travel specialists can tailor make an unforgettable private Urumqi tour for you with their years of personal experience.
Exhibiting the locally famous "Loulan Beauty", Xinjiang Museum, the massive provincial museum, is the symbol of Uighur independence and other amazing silk and sculpture, as well as an introduction to all of the minorities in this region. Erdaoqiao Grand Bazaar is the prefect place to experience the local life and mouthwatering food. The surrounding streets in the Erdaoqiao and nearby International Bazaar are worth a stroll for their Uighur markets and snack stalls. More of an amusement park, Red Hill Park offers you the amazing city views, particularly from the 18th-century hilltop pagoda. Tian Chi, a small, long, steely blue lake, nestles blow the majestic Tianshan Mountain (5,445m).
Most Popular Urumqi Tour Packages
Travelling along Xinjiang Silk Road, 3rdpoletour.com combine your Urumqi tour with Dunhuang, Turpan, and Kashgar. The stunning Heavenly Lake, bustling Erdaoqiao Market, fabulous Mogao Grottoes, sweetest grapes and mouthwatering snacks, mysterious Id Kah Mosque, etc. are waiting for you to explore.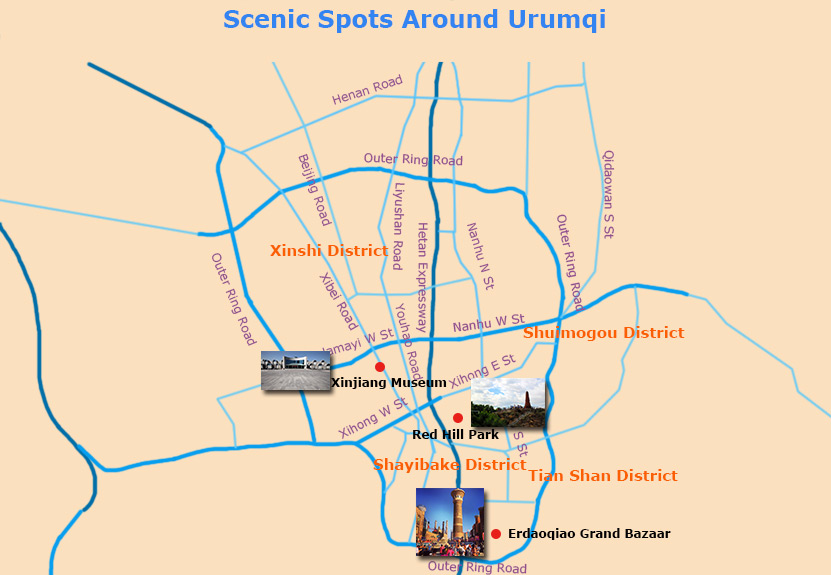 Quick Facts of Urumqi
Urumqi (8,00m), Tian Chi (1,907m), Tianshan Mountain (5,445m)

All Year Round (especially May, August and September)

Xinjiang Museum, Erdaoqiao Grand Bazaar, Red Hill Park, Tian Chi, etc.

Tourists can get to Urumqi by flight from Beijing, Shanghai, Guangzhou, Xian, Yinchuan, Ulan Bator, Kabul to Urumqi Diwopu International Airport or take train from Beijing, Shanghai, Chengdu, Xian, Zhengzhou and Lanzhou to Wulumuqi Railway Station.
Eager to Go? Still have some questions or already got your own travel ideas? Please feel free to contact us. Our experienced travel experts on the Third Pole will help you arrange your trip according to your requirements.
Let's Plan Your Trip