No matter how noise street and how bustling crowd you are standing at, it is still silent. This is in Lijiang, one of the popular destinations for tourists who desire for a peaceful life. Lijiang has two halves: the old town and the modern new town. With your heart and love, you will be able to discover the real Lijiang.
Highlights of Lijiang
1Lijiang Old Town: The town is well-preserved old city of ethnic minorities with several brilliant cultures over many centuries. Its architectures are noteworthy for the blending of these cultural elements.
2Tiger Leaping Gorge: As one of the deepest gorges in the world, it measures 16km long and is a giddy 3900m from the waters of the Jinsha River to the snow-capped peak. It is one of the unmissable trekking places of southwest China. One or two days is OK.
3Jade Dragon Snow Mountain: It is also known as Yulong Xueshan which soars to some 5590m. Tourists can take a cable car to ascend the mountain to an elevation of 4506m, from here walking up another 200m to a viewing point to see the glacier near the peak. This is where the Impression Lijiang show is held, a mega song-and-dance performance.
4Baisha Village: Baisha is a small village on the plain north of Lijiang, with several old temples nearby, where is one of best day trips out of Lijiang , especially if you have a bike.
Most Popular Lijiang Tour Packages
Your journey will be fully tailored to your schedule, interests and budget.
Tailor-make your Lijiang Tour
Too many choices? Send us a quick inquiry so that we can offer you an itinerary with price for your information. This short inquiry is FREE and NOT a commitment for booking.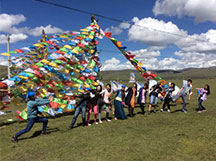 Start planning your tailor-made adventure to the Third Pole by contacting one of our certified specialists.