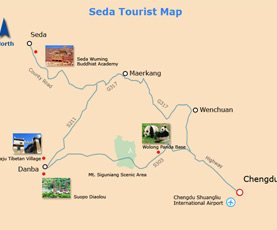 Located at the remote northwest plateau area in Sichuan Province, about 780km away from Chengdu, Seda (Sertar) features with grassland, lakes, rivers and Tibetan atmosphere, and is well known for Larong Wuming Buddhist Academy which is the world's largest active Buddhist school, red sect temples, and Tianzang Funeral, etc. Just need a Chinese visa, to see what usually in Tibet.
Highlights of Seda (Sertar)
1Larong Wuming Buddhist Academy: The Academy is the world's largest active Tibetan Buddhist school, which is cradled in the remote and steep alpine valley in Seda County, about 780km away from Chengdu. There are ten thousands of Lamas and Juemus living in thousands of red houses.
2Personally experience Tianzang Funeral: For the Tibetans, Tianzang is the most solemn funeral. All Tibetan hope to be practiced Tianzang when they die because it is the largest wish in their lifetime.
3Study Buddhism with Lama and Juemu: In Wuming Buddhist Academy, it is free to enter the scripture hall and study and discuss Buddhism with the Lamas and Juemus.
Most Popular Seda (Sertar) Tour Packages
Your journey will be fully tailored to your schedule, interests and budget.
Tailor-make your Seda (Sertar) Tour
Too many choices? Send us a quick inquiry so that we can offer you an itinerary with price for your information. This short inquiry is FREE and NOT a commitment for booking.