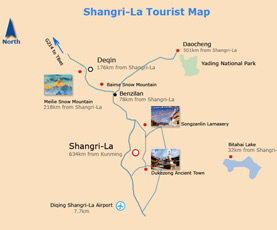 In Tibetan, Shangri-La has the meaning of "the sun and moon in the heart", where you can breathe Buddhism atmosphere, and it is a wonderful destination for getting off the beaten track, with plenty of trekking and horse-riding opportunities, as well as little-visited monasteries and villages.
Highlights of Shangri-La
1Songzanlin Lamasery: About an hour's walk north from the town, Songzanlin Lamasery, with a 300-year-old history, is famous for its alias - "the little Potala Palace". Pay a visit to see the temple in the traditional style with mysterious atmosphere.
2Dukezong Ancient Town: With a 1300-year-old history, Dukezong is the biggest well-preserved ancient town inhabited with Tibetans. Its names means "Moonlight City", and it was a key stop on the ancient Tea-Horse Road and an important hub of Han-Tibetan exchanges.
3Meili Snow Mountain: With 13 peaks at the altitude of 6000m above sea level, it is an UNESCO natural site, located about 10km northeast of Deqin County, dividing Yunnan from Tibet. Standing at Feilaisi Temple, tourists can get the panorama view of the 13 towering peaks and its glaciers.
Most Popular Shangri-La Tour Packages
Your journey will be fully tailored to your schedule, interests and budget.
Tailor-make your Shangri-La Tour
Too many choices? Send us a quick inquiry so that we can offer you an itinerary with price for your information. This short inquiry is FREE and NOT a commitment for booking.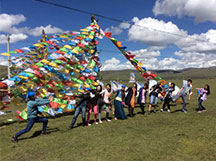 Start planning your tailor-made adventure to the Third Pole by contacting one of our certified specialists.