In Tibetan, Shangri-La has the meaning of "the sun and moon in the heart", where you can breathe Buddhism atmosphere, and it is a wonderful destination for getting off the beaten track, with plenty of trekking and horse-riding opportunities, as well as little-visited monasteries and villages.
Famous for its alias - "the little Potala Palace", Songzanlin Lamasery in the traditional style, about an hour's walk north from the town, has a 300-year-old history with mysterious atmosphere. With a 1300-year-old history, Dukezong Ancient Town is the biggest well-preserved ancient town inhabited with Tibetans. Its names means "Moonlight City", and it was a key stop on the ancient Tea-Horse Road and an important hub of Han-Tibetan exchanges. With 13 peaks at the altitude of 6000m above sea level, Meili Snow Mountain is an UNESCO natural site, located about 10km northeast of Deqin County, dividing Yunnan from Tibet. Standing at Feilaisi Temple, tourists can get the panorama view of the 13 towering peaks and its glaciers.
Most Popular Shangri-La Tour Packages
Tracing along the Ancient Tea-Horse Road, 3rdpoletour.com accompany you to explore the time-honoured history and exotic cultural customs in the "Last Paradise" - Shangri-La and surroundings in Yunnan.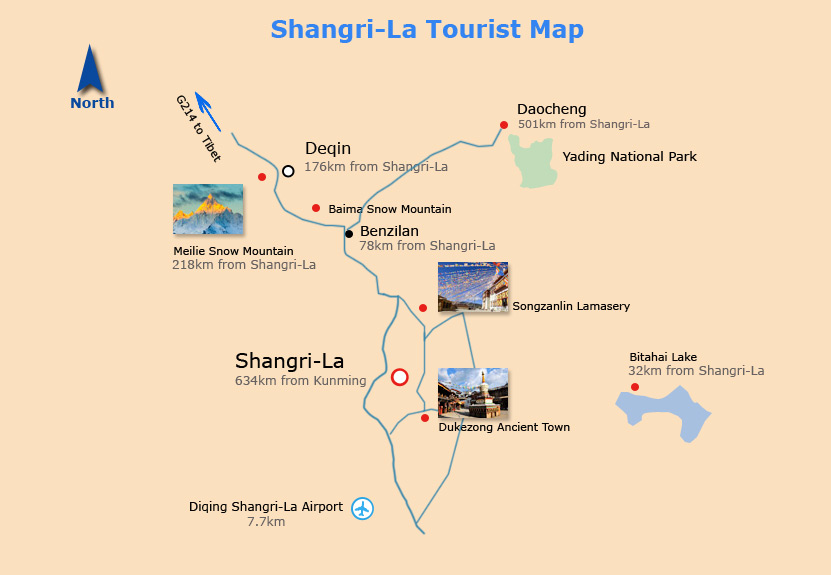 Quick Facts of Shangri-La
Songzanlin Monastery(3,380m), Dukezong Old Town(3,300m), Meili Snow Mountain(6,000m)

All Year Round (especially Dragon Boat Festival and Mid-autumn Festival)

Songzanlin Lamasery, Dukezong Ancient Town, Meili Snow Mountain, etc.

Tourists can get to Shangri-La by bus from Kunming, Lijiang, Dali, Deqin, Daocheng and Panzhihua in Sichuan or take flight from Kunming, Xishuangbanna, Chengdu, Lhasa, Guangzhou, Chongqing, Beijing, and Shanghai to Shangri-La Diqing Airport.
Shangri-La Travel Guide
Amazed by Tibetan style monasteries and buildings in Yunan? 3rdpoletour.com have made a set of Shangri-La travel advice for your reference.
Eager to Go? Still have some questions or already got your own travel ideas? Please feel free to contact us. Our experienced travel experts on the Third Pole will help you arrange your trip according to your requirements.
Let's Plan Your Trip