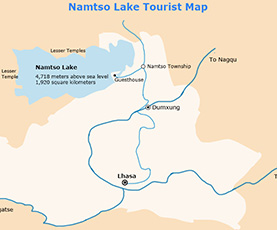 Namtso is the highest lake in the world with an altitude of 4,718m and one of the three holy lakes in Tibet, adored by the local people and tourists. The waters of sacred Namtso shimmer with an almost transcendent turquoise, framed by strings of prayer flags and snow-capped mountain peaks. Our Tibet travel specialists can tailor make an unforgettable private Namtso tour for you with their years of personal experience.
Highlights of Namtso Lake
1Namtso Lake: Trek around the sacred lake to take a panoramic view of the breathtaking scenery and find the true peace in your heart.
2Namtso Sunrise and Sunset: Stay overnight near the lake and get a fantastic view of the amazing sunset and sunrise over the lake.
Most Popular Namtso Lake Tour Packages
Your journey will be fully tailored to your schedule, interests and budget.
Tailor-make your Namtso Lake Tour
Too many choices? Send us a quick inquiry so that we can offer you an itinerary with price for your information. This short inquiry is FREE and NOT a commitment for booking.