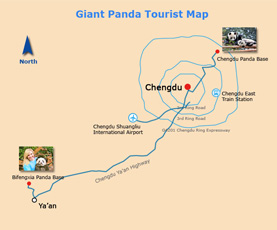 GIANT PANDA
Giant Panda, a peaceful and lovely creature with a distinctive black and white coat and prominent black eyes, are considered as a living fossil and an endangered species in the world, attracting tourists from all over the world. We designed the classic Panda tours below to meet different needs of our clients: 1) be a panda volunteer to take care of the pandas; 2) take pictures with holding a cute young panda; 3) or just see them in person. Choose from the following tours at the best price, or tailor-make your special Giant Panda Tour.
Please note: Due to the horrible viral disease, the program that allows visitors to take pictures holding a panda is still suspended in Chengdu Research Base of Giant Panda Breeding and Bifengxia Panda Base. If you are interested in intimate contact with a panda and taking photos, please contact us one week in advance and we will arrange the tour to Dujiangyan Panda Base instead.
Best Places to see the Giant Panda
1Chengdu Research Base of Giant Panda Breeding: (known as Chengdu Panda Base) Home to nearly 50 giant and red pandas, the base is one of Chengdu's most popular tourist attractions, and it focuses on getting these sexually reluctant creatures to breed. Try to visit the base in the morning at the feeding time about 9:30 - 11:30. ( opening time: 07:30-18:00, ticket fee: 58 yuan per person )
2Bifengxia Panda Base: The base is the biggest Giant Panda base in the world, with 155 pandas. Visit there, ones can not only watch pandas and take photos with them, but also have a paid holding of a baby panda for once in a lifetime experience. ( opening time: 09:00-13:00 and 13:00-16:00 )
3Dujiangyan Panda Base: Built in 2011, this base is the research center to rescue and disease control of wild giant pandas. Here, you can experience the rescue process to treat sick pandas and get close to pandas and make some interaction with them under the help of the master. ( opening time: 08:30-17:00; the only panda base to take photos holding a panda at 11 o'clock with a donation of RMB 1800, and join Panda Volunteer Program. )
Most Popular Giant Panda Tour Packages
Your journey will be fully tailored to your schedule, interests and budget.
Start planning your tailor-made adventure to the Third Pole by contacting one of our certified specialists.